Register through MindBody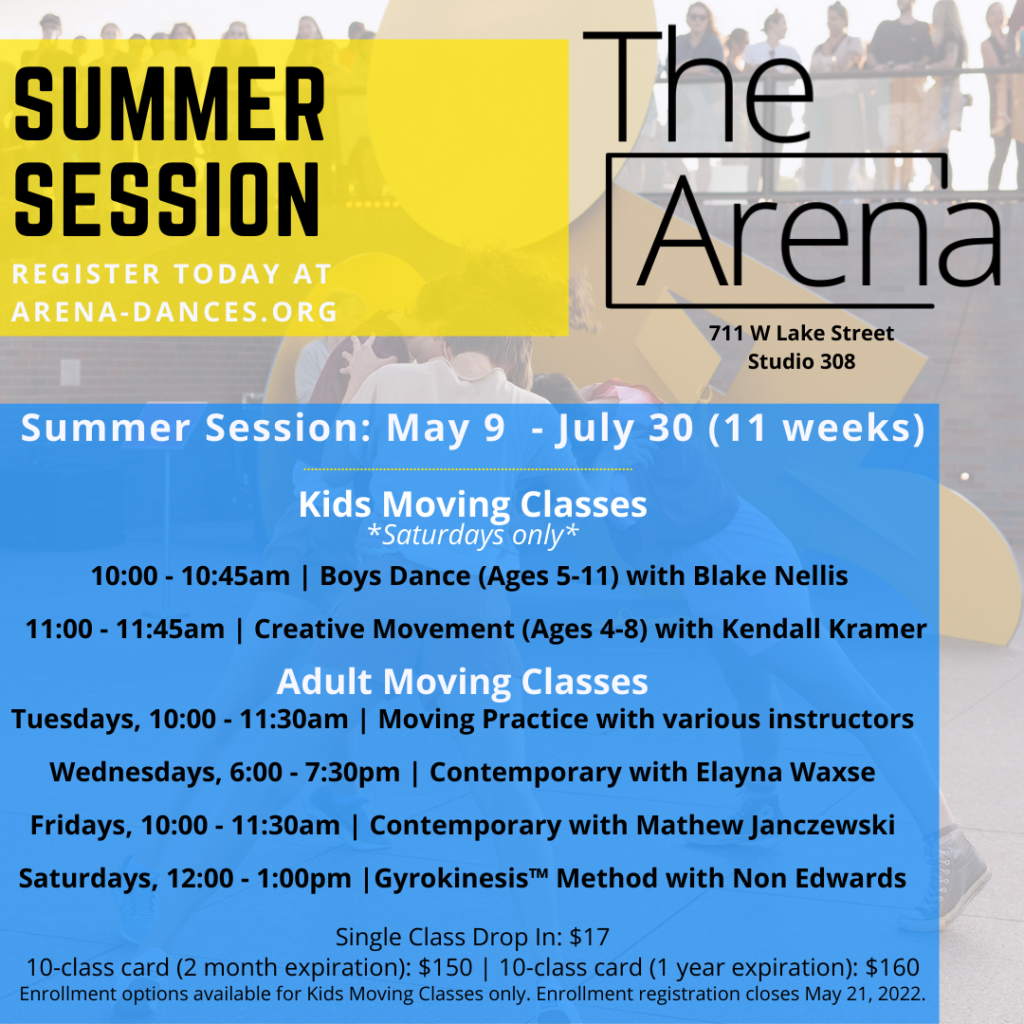 ---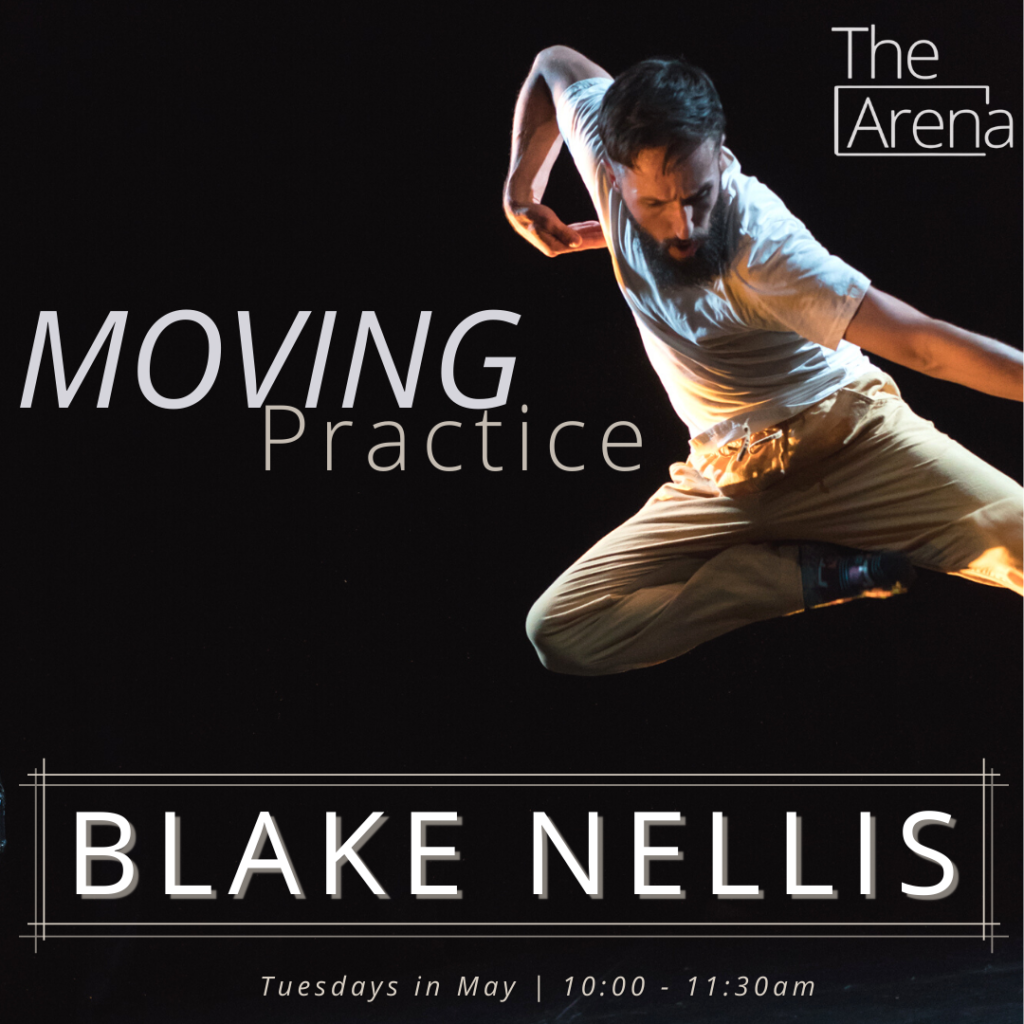 Blake Nellis teaches May Moving Practice at The Arena!
Tuesdays in May, 10:00 – 11:30am
In this series we will explore principles of: improvisation, weight, spirals, follow-through, moving support, timing, and dynamics of touch. We will play with material that arises from the dance we experience and explore together. In and out of solo, changing our tone and attention, we will deepen our sense of dancing authentically.
Blake Nellis (he/him) is an artist, educator and improviser who creates work with the body. His work is deeply rooted in human connection, physical touch and nature. He graduated from Luther College with a degree in Theater/Dance. He is a 2019 & 2015 recipient of the MN State Arts Board Artist Initiative Grant (Photography & Dance respectively). He has taught and performed around the globe. He has produced work at the Walker Art Center, Patrick's Cabaret, The Artbox, Red Eye Theater, TEK Box, Bryant Lake Bowl Theater & Luther College. His other professional dance experience includes performing with Mathew Janczewski's ARENA Dances, Patrick Scully, Live Action Set, Stuart Pimsler Dance & Theater, Jim Lieberthal's Footholds Project, Jane Hawley, Hatch Dance, HoneyWorks, Rosy Simas & Taja Will. His favorite moments usually include ice cream, laughter, traveling, or nature. Or beer. And biking. And/or all of the above. www.blakenellis.org
---
About The Arena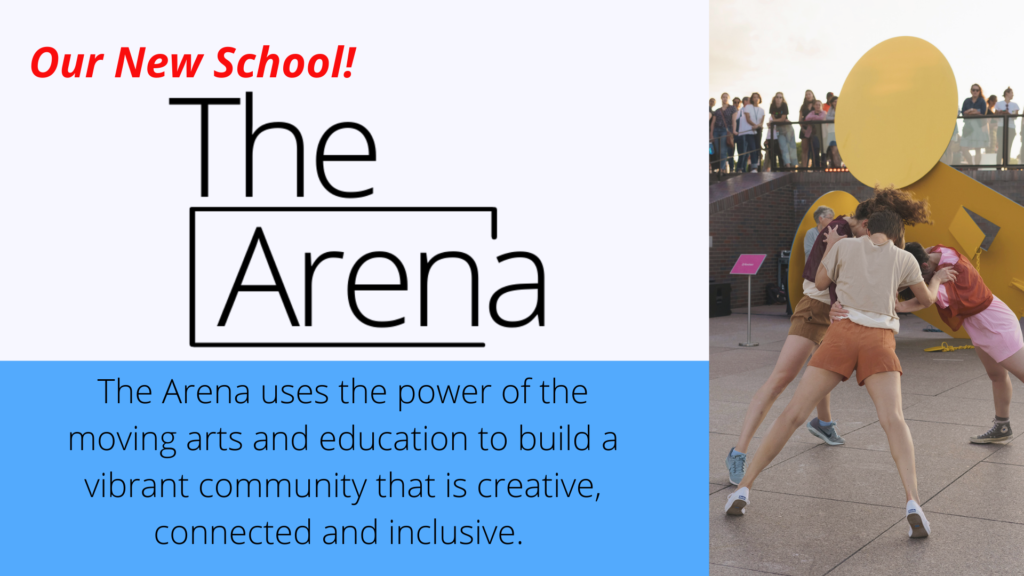 dance class dance class dance class dance class open class open
The Arena supports a diverse cultural environment in Minneapolis through classes offered at the studio. Affordable classes are offered for children and adults at a bustling location that supports those who are interested in the moving arts.
Through the many movement forms for the body and mind: dance, yoga, tai chi, Feldenkrais, meditation, and beyond, we nurture the artistic and creative potential in our students—and our community.
---
Rent The Arena
Need a space to create?
Located in the heart of the LynLake neighborhood, The Arena is available for your rehearsal, class, and event needs!
Our space offers 1,305 square feet, 30'×40′ of sprung floor, Marley dance flooring, wall-length mirrors (with curtains to cover if preferred), free wifi, and a changing room.
We are situated on multiple bus lines, including the 21, 4, 23, 612, and 18; with plenty of free, street parking around the building.
To request space, please email arenadances@gmail.com
Location Info:
The Arena
711 W. Lake Street
Studio 308
Minneapolis, Minnesota 55408
6128040238