---
The Arena supports a diverse cultural environment in Minneapolis through classes offered at the studio. Affordable classes are offered for children and adults at a bustling location that supports those who are interested in the moving arts.
---
Suggested $17 a class, but ARENA DANCES offers a pay-as-able option on all classes. We would rather you join us than not be able to attend due to financial limitations.
Flexible 10-Class Pass Cards are available for a savings of $2/class ($150 total).
Pre-registration with payment through PayPal is now REQUIRED. In order to complete your class registration, please CLICK HERE and follow the link to pay for class. Payment through PayPal is highly encouraged and preferred, but cash is welcome at the door if necessary.

You can cancel a pre-registration before class starts via email to arenadances@gmail.com, but you will receive a credit to use for another class. No refunds will be issued unless ARENA cancels a class. No credits will be given once the class starts or if you do not show up for class.

Please email arenadances@gmail.com with any questions.
The Arena
711 W. Lake Street, Studio 308
Minneapolis, Minnesota 55408
arenadances@gmail.com
612.804.0238
---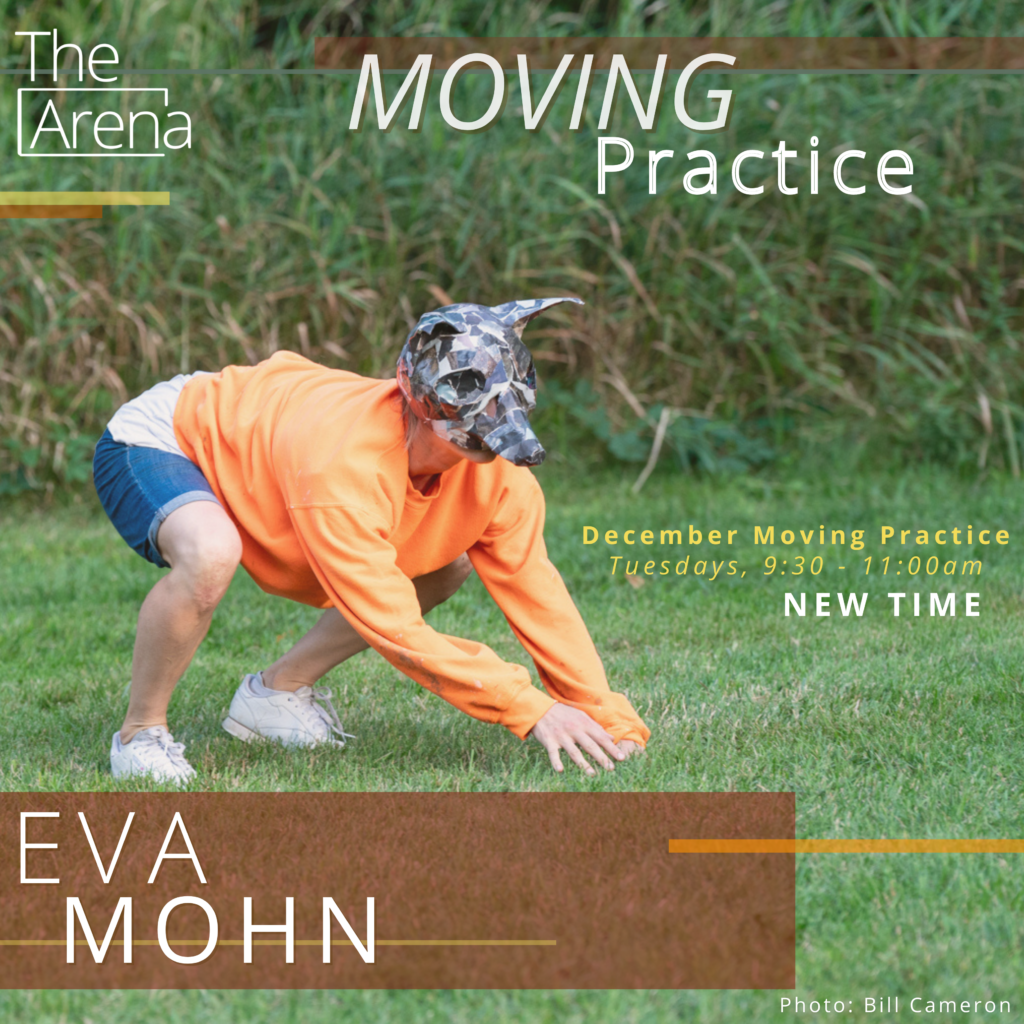 Eva Mohn leads December Moving Practice
Tuesdays in December | 9:30 – 11:00am
December 5 • December 12 • December 19 • December 26
Please see instructions above for more information on class registration and payment.
"This class will include a warm up based on archetypal movement patterns as defined by the Masgadova Method of occupational therapy. The later protion the morning training will include explorations of dance as a practice of music and play. In this class we will us patterns, homolateral and cross lateral, with ranges of complexity in coordination and balance. This progression is intended to be therapeutic for an overstimulated nervous system, and well as stimulating and invigoration for those of us who enjoy playful rigger on a chilly morning. All are welcome."
-Eva Mohn
Eva Mohn works as a dancer and composer, straddling the USA and Europe. Eva originally comes from Minneapolis, MN. She was a member of a Minneapolis based dance company TU Dance from 2002-2009. She moved to New York in 2009 to work with German choreographer Johannes Wieland. She then moved to Kassel, Germany to continue that working relationship with Wieland. In 2012 she moved to Stockholm, Sweden and began working with Cullberg Ballet. She has a continuing relationship with Sweden and Cullberg however is now based in Minneapolis. In 2021 she received her Masters in Choreography and New Performative Practices from Stockholm University for the Arts. In the fall of 2022 she worked as an assistant to a project with Tilman O'Donnel in Stockholm with a premier in March 2023. She is currently working on a dance research performance project with Morgan Thorson for a premier at the Great Northern Festival in winter 2024.
Eva is a student and practitioner of Cranial Sacral Therapy, and has completed a study and certification in Yoga with Richard Freeman in Boulder, Colorado. She has spent chapters of her working life as a baker, house painter, and during the 2020 pandemic she worked as a farm manager for a small scale organic sheep farm in Bloomington, Minnesota. In January 2021 she became a mother. Her current artistic practice is one of interplay and conflation between dancing, mothering, caregiving, inter-species relationships, and the physical inquiries of dancing, recreating and playing.
---
Rent The Arena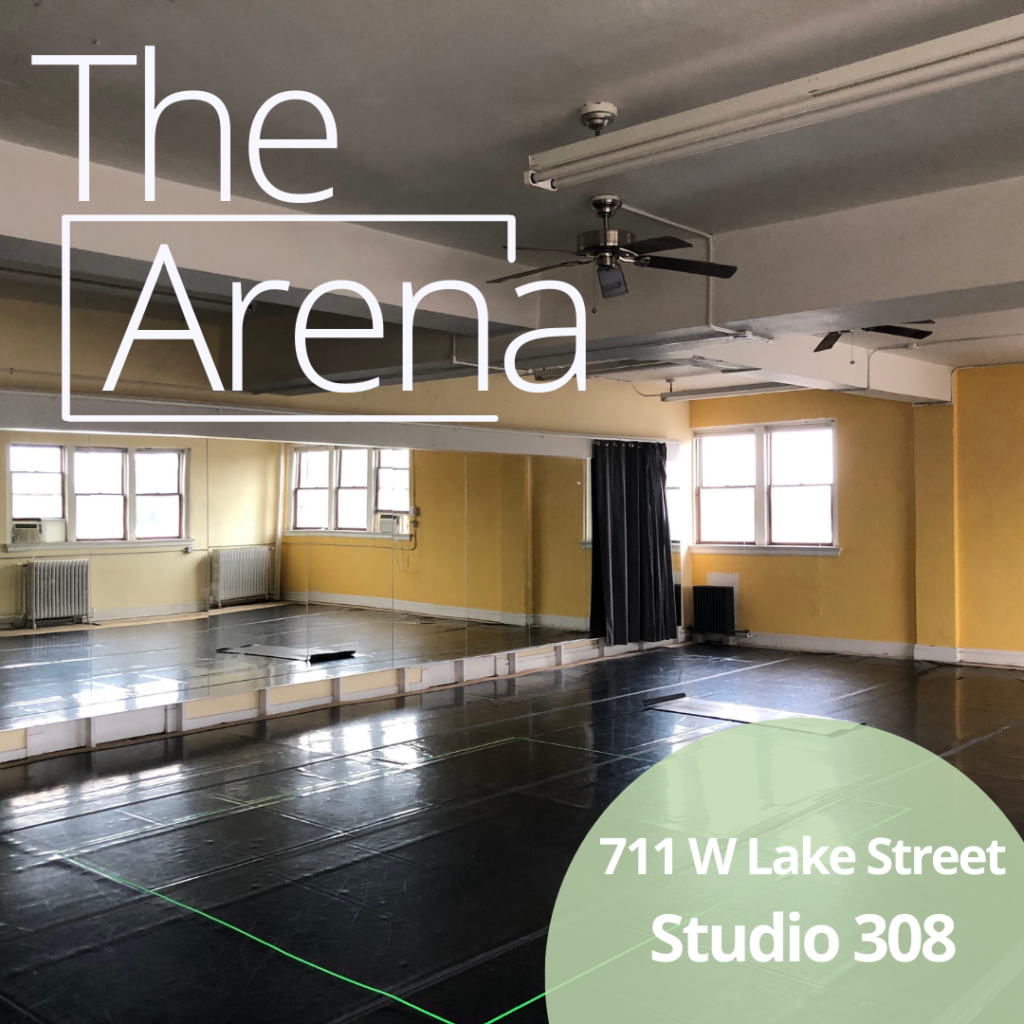 Need a space to create?
Located in the heart of the LynLake neighborhood, The Arena is available for your rehearsal, class, and event needs!
Our space offers 1,305 square feet, 30'×40′ of sprung floor, Marley dance flooring, wall-length mirrors (with curtains to cover if preferred), free wifi, and a changing room.
We are situated on multiple bus lines, including the 21, 4, 23, 612, and 18; with plenty of free, street parking around the building.
To request space, please email arenadances@gmail.com
The Arena
711 W. Lake Street, Studio 308
Minneapolis, Minnesota 55408
arenadances@gmail.com
612.804.0238