---
The Arena supports a diverse cultural environment in Minneapolis through classes offered at the studio. Affordable classes are offered for children and adults at a bustling location that supports those who are interested in the moving arts.
---
Suggested $17 a class, but ARENA DANCES offers a pay-as-able option on all classes. We would rather you join us than not be able to attend due to financial limitations.
Flexible 10-Class Pass Cards are available for a savings of $2/class ($150 total).
Pre-registration with payment through PayPal is now REQUIRED. In order to complete your class registration, please CLICK HERE and follow the link to pay for class. Payment through PayPal is highly encouraged and preferred, but cash is welcome at the door if necessary.

You can cancel a pre-registration before class starts via email to arenadances@gmail.com, but you will receive a credit to use for another class. No refunds will be issued unless ARENA cancels a class. No credits will be given once the class starts or if you do not show up for class.

Please email arenadances@gmail.com with any questions.
---
April Sellers teaches May Moving Practice
Tuesdays in May | 10:00 – 11:30am
Please see instructions above for more information on class registration and payment.
"This class will be a laboratory for performance with an antiracist lens and an insistence upon accessibility. We will play with seeing and being seen a chance to check in with yourself, with your own sense of embodiment and engage with your inner worlds. There will be some work on the floor, improvisation, vocalization, and experiments with objects. We will engage connections, disruptions, and migrations. Each class will shape itself according to the people in the room and the inherent needs and themes."
—April Sellers
April Sellers is a choreographer with a desire to lift and celebrate ignored streams in society, creating performance of movement, song, text, and sequins. She founded April Sellers Dance Collective (ASDC) in 2002 a dance performance and teaching organization that celebrates complex expressions of gender and identity.
April Sellers has spent 22 years as a dance performer, teacher, choreographer, curator, and consultant. In 2021 Sellers received the National Dance Project Production Grant for her most recent work, Rumble Strips. Her works have been commissioned by The Right Here Showcase, Candy Box Festival, Intermedia Arts, Southern Theater, Hennepin Theater Trust, Red Eye Theater and Dancing Queerly. She has been supported by National Endowment for the Arts, MN State Arts Board, Metropolitan Regional Arts Council, Ohio Partners for the Arts and McKnight Foundation. In 2017 she received the award "Artist of the Year" by City Pages. She received a Sage Award for Outstanding Performance for "House of Big Love", created and performed with collaborator Judith Howard, site specific at a St Paul residence.
She has curated performances for the Southern Theater, Bryant Lake Bowl, Hennepin Theater Trust, Gamut Gallery, and Link's Hall, Chicago. Over the past decade, Sellers' work has been recognized by invitations to several well-known artist residencies, including the Djerassi Resident Artists Program (Santa Cruz CA), Maggie Allessee Center for Choreography (Tallahassee FL) Tofte Lake Center (Ely MN) and University of Wisconsin-Milwaukee Thesis Residency, where she received her MFA in Dance.
---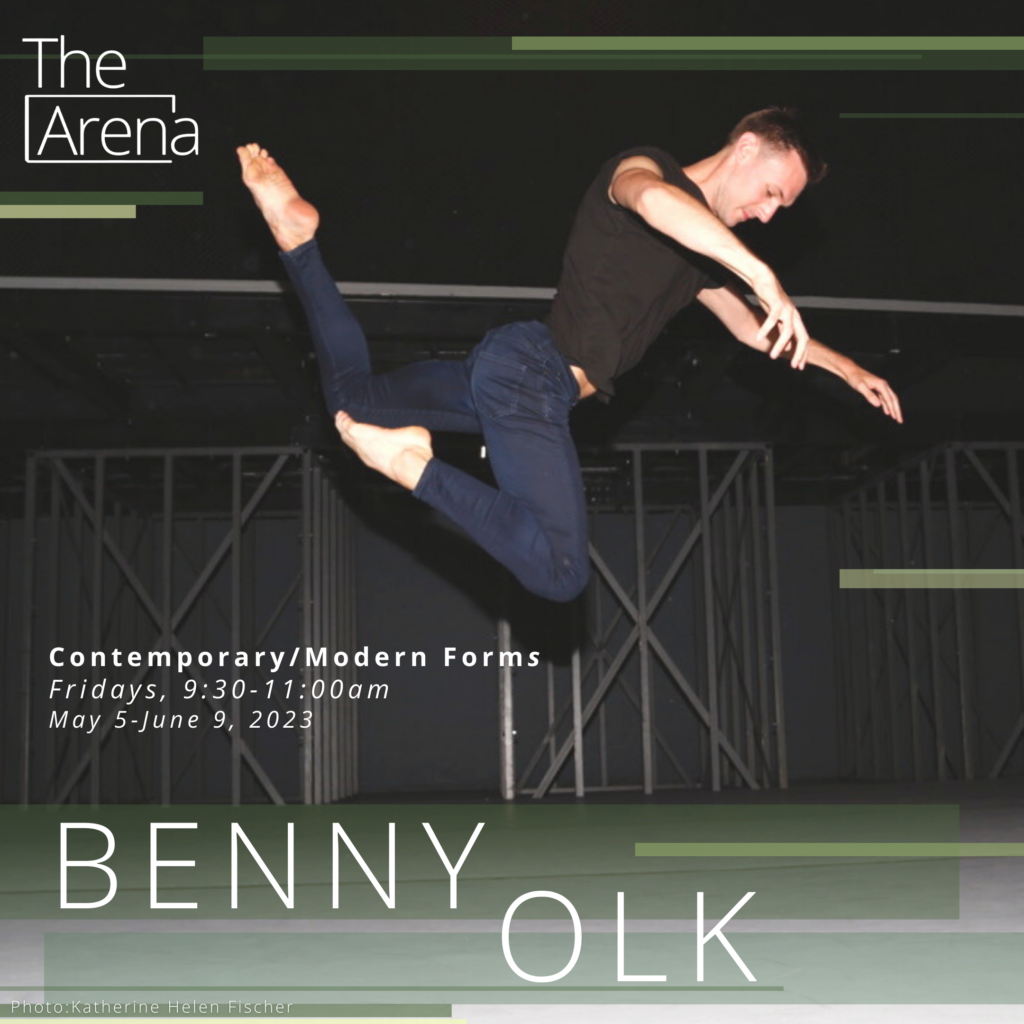 Benny Olks teaches Cunningham Technique
Fridays, 9:30-11:00am
May 5 – June 9, 2023
Please see instructions above for more information on class registration and payment.
"This class will offer an introduction to Cunningham technique, emphasizing rhythmic, directional, and physical clarity in order to organize movements with efficiency and at the same time making room for discovery. The class begins with exercises for the torso, then moves to legwork, then across the floor and finally to jumping. Each class will contain something everyone can do and something no one can do. 'The only way to do it is to do it,' as Cunningham himself said."
—Benny Olk
Benny Olk (he/him) is a performing artist and teacher based in Minneapolis with an interest in contemporizing and contextualizing American modern and post-modern dance. As a member of Lucinda Childs Dance Company, he performed reconstructions of pieces such as Dance and Available Light. He performed in reconstructions of Crises and Suite for Five among others by Merce Cunningham, and has premiered works by Moriah Evans and Anthea Hamilton. Benny holds a BFA in Dance from NYU and an MA in New Performative Practices from Stockholm University of the Arts.
---
The Arena
711 W. Lake Street, Studio 308
Minneapolis, Minnesota 55408
arenadances@gmail.com | 612.804.0238
dance class dance class dance class dance class open class op
---
Rent The Arena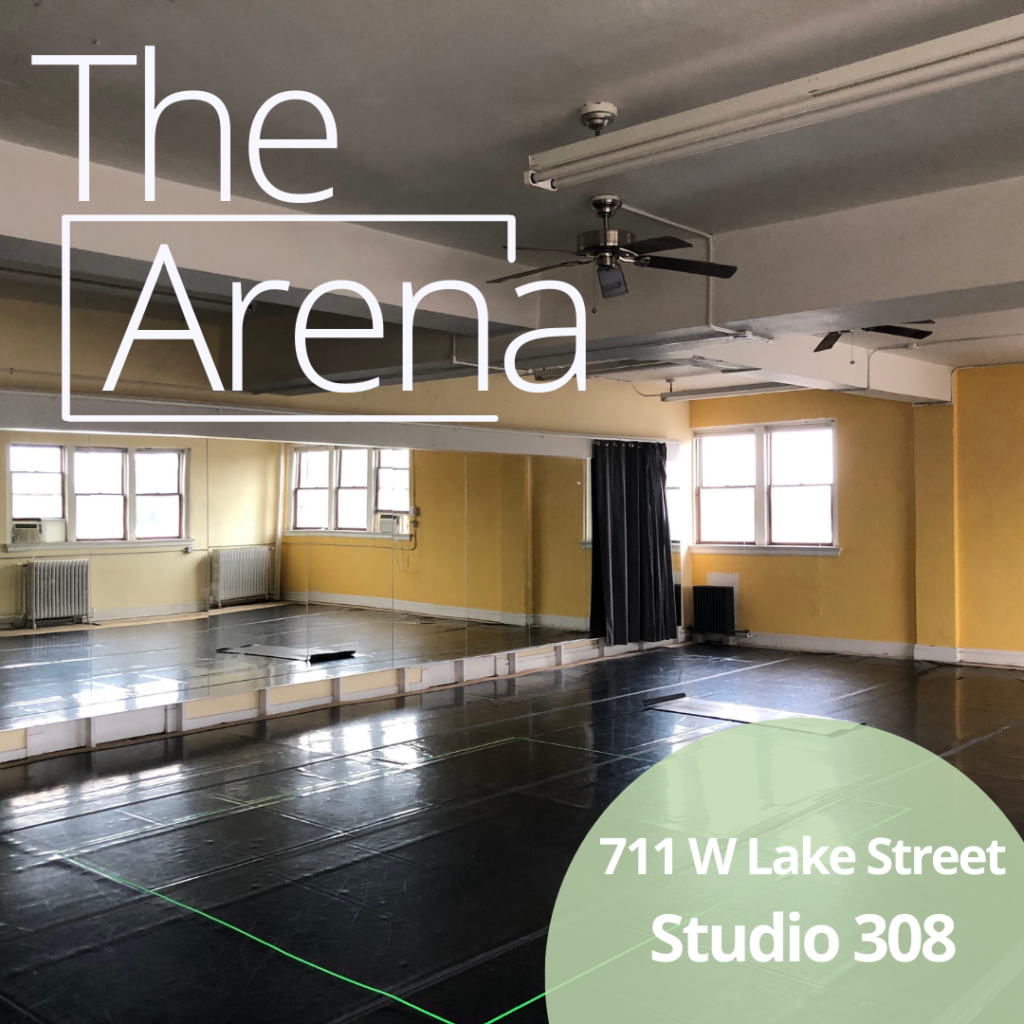 Need a space to create?
Located in the heart of the LynLake neighborhood, The Arena is available for your rehearsal, class, and event needs!
Our space offers 1,305 square feet, 30'×40′ of sprung floor, Marley dance flooring, wall-length mirrors (with curtains to cover if preferred), free wifi, and a changing room.
We are situated on multiple bus lines, including the 21, 4, 23, 612, and 18; with plenty of free, street parking around the building.
To request space, please email arenadances@gmail.com
The Arena
711 W. Lake Street, Studio 308
Minneapolis, Minnesota 55408

arenadances@gmail.com | 612.804.0238