---
The Arena supports a diverse cultural environment in Minneapolis through classes offered at the studio. Affordable classes are offered for children and adults at a bustling location that supports those who are interested in the moving arts.
---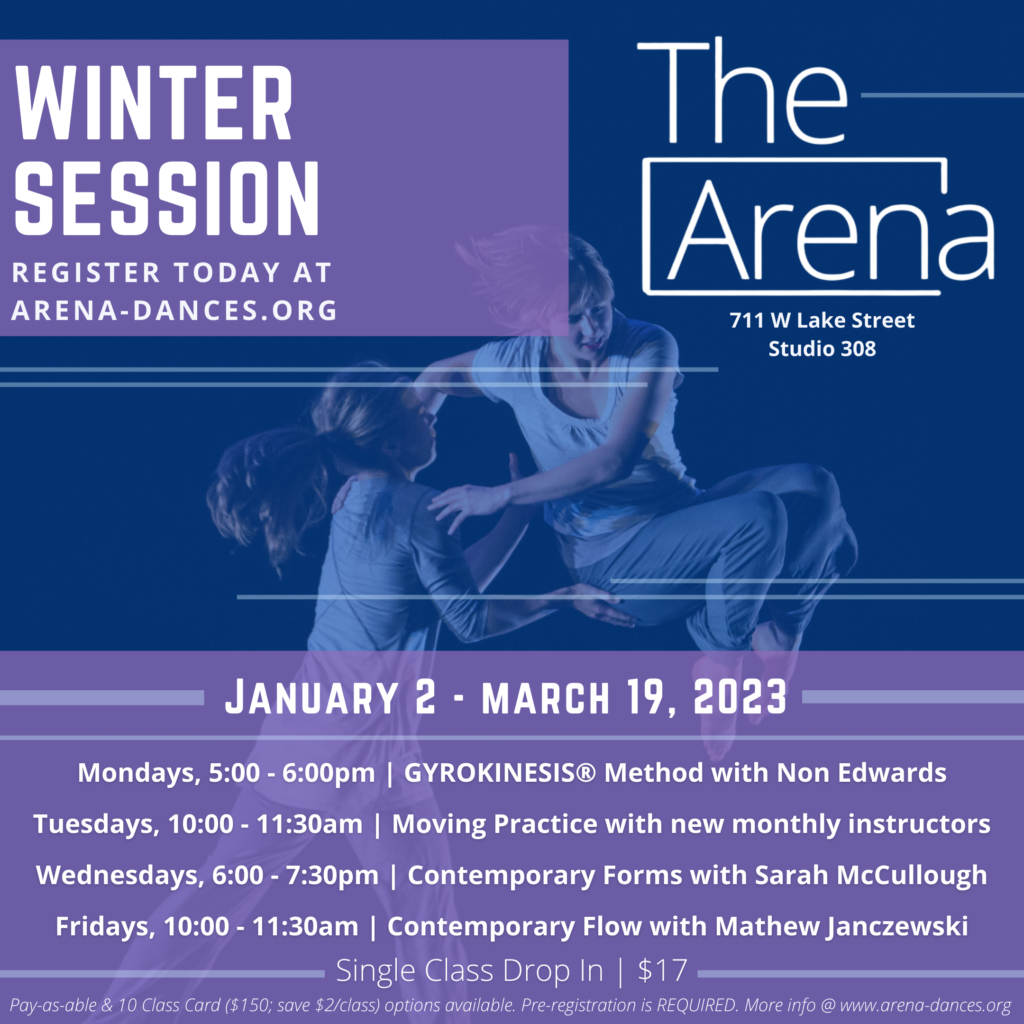 Winter at The Arena | January 2 – March 19, 2023
The Arena
711 W. Lake Street, Studio 308
Minneapolis, Minnesota 55408
arenadances@gmail.com | 612.804.0238
---
Suggested $17 a class, but ARENA DANCES offers a pay-as-able option on all classes. We would rather you join us than not be able to attend due to financial limitations.
Flexible 10-Class Pass Cards are available for a savings of $2/class ($150 total).
Pre-registration with payment through PayPal is now REQUIRED. In order to complete your class registration, please CLICK HERE and follow the link to pay for class. Payment through PayPal is highly encouraged and preferred, but cash is welcome at the door if necessary.

You can cancel a pre-registration before class starts via email to arenadances@gmail.com, but you will receive a credit to use for another class. No refunds will be issued unless ARENA cancels a class. No credits will be given once the class starts or if you do not show up for class.

Please email arenadances@gmail.com with any questions.
---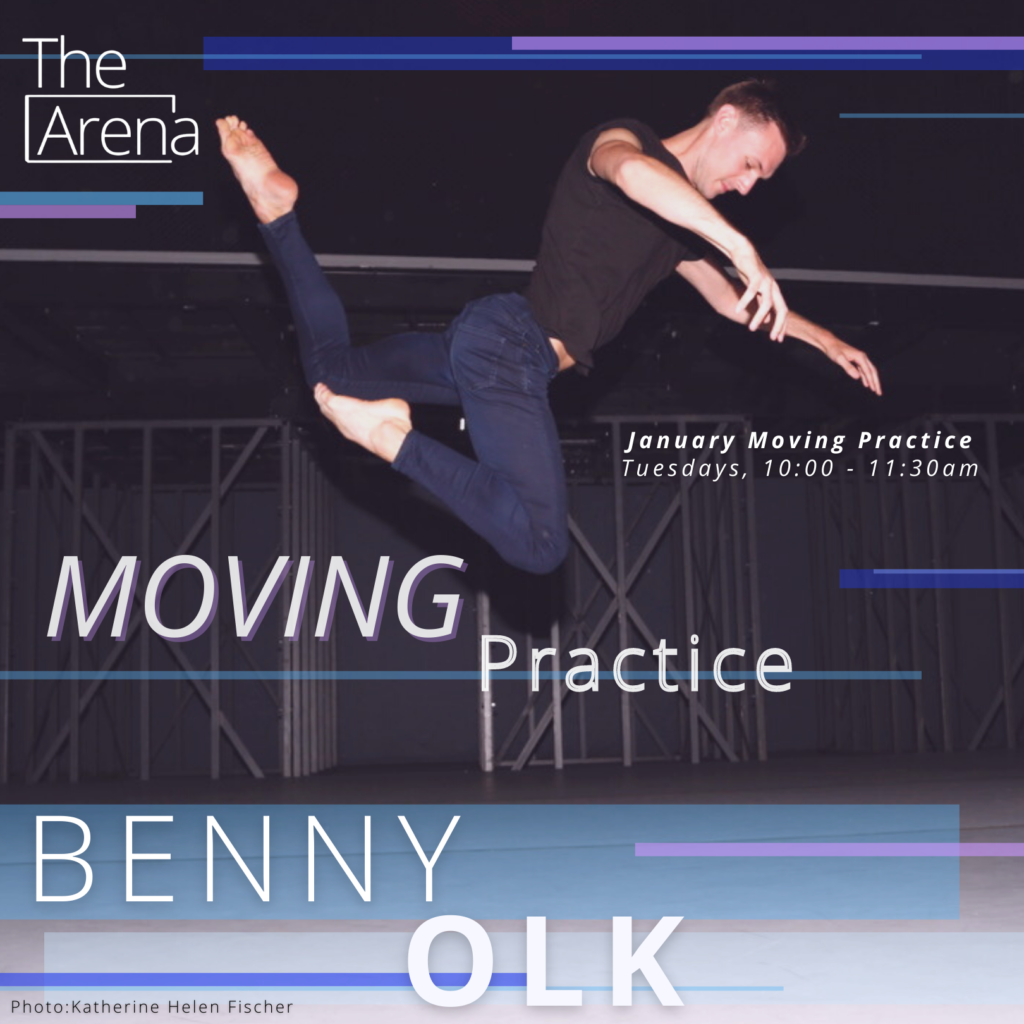 Benny Olk teaches January Moving Practice
Tuesdays in January | 10:00 – 11:30am
Please see instructions above for more information on class registration and payment.
"This class will offer an introduction to Cunningham technique, emphasizing rhythmic, directional, and physical clarity in order to organize movements with efficiency and at the same time making room for discovery. The class begins with exercises for the torso, then moves to legwork, then across the floor and finally to jumping. Each class will contain something everyone can do and something no one can do. "The only way to do it is to do it," as Cunningham himself said." -Benny Olk
Benny Olk (he/him) is a performing artist and teacher based in Minneapolis with an interest in contemporizing and contextualizing American modern and post-modern dance. As a member of Lucinda Childs Dance Company, he performed reconstructions of pieces such as Dance and Available Light. He performed in reconstructions of Crises and Suite for Five among others by Merce Cunningham, and has premiered works by Moriah Evans and Anthea Hamilton. Benny holds a BFA in Dance from NYU and an MA in New Performative Practices from Stockholm University of the Arts.
dance class dance class dance class dance class open class op
---
Rent The Arena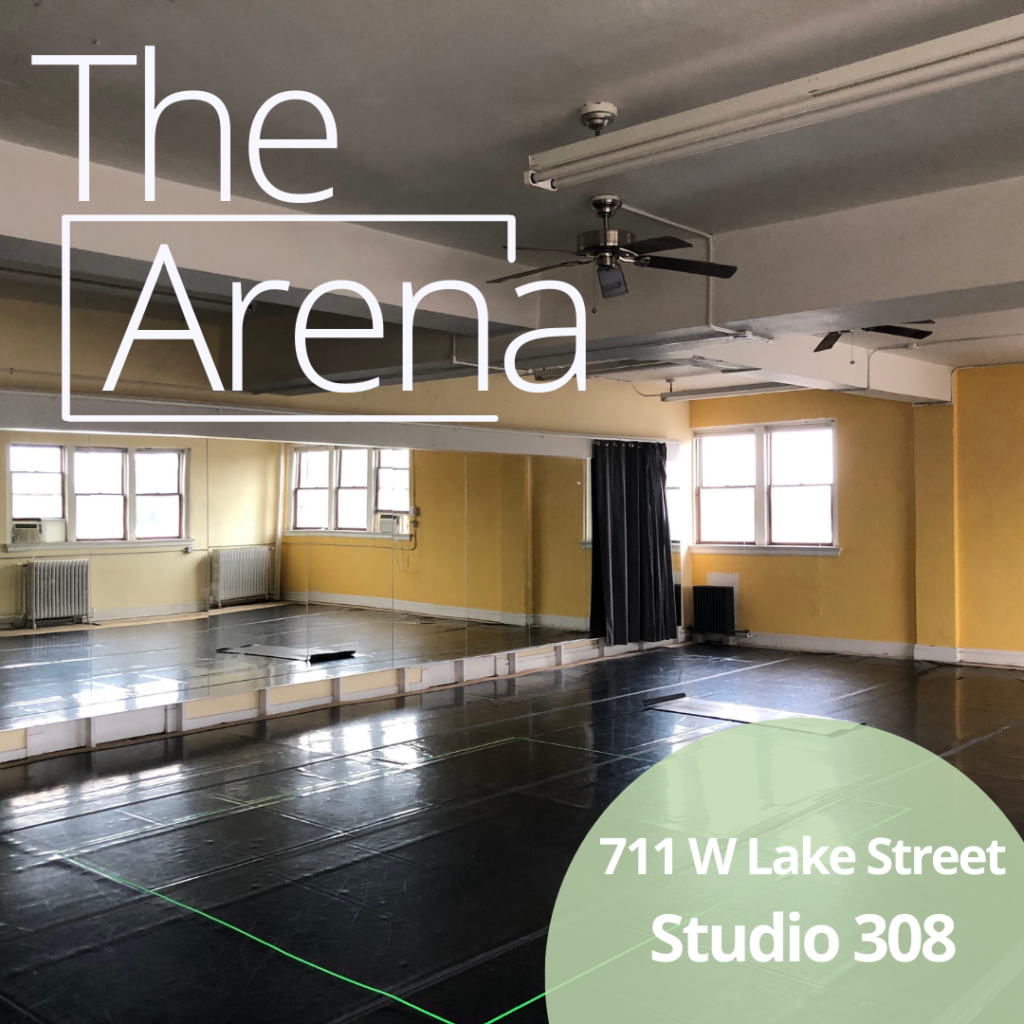 Need a space to create?
Located in the heart of the LynLake neighborhood, The Arena is available for your rehearsal, class, and event needs!
Our space offers 1,305 square feet, 30'×40′ of sprung floor, Marley dance flooring, wall-length mirrors (with curtains to cover if preferred), free wifi, and a changing room.
We are situated on multiple bus lines, including the 21, 4, 23, 612, and 18; with plenty of free, street parking around the building.
To request space, please email arenadances@gmail.com
The Arena
711 W. Lake Street, Studio 308
Minneapolis, Minnesota 55408

arenadances@gmail.com | 612.804.0238