---
The Arena supports a diverse cultural environment in Minneapolis through classes offered at the studio. Affordable classes are offered for children and adults at a bustling location that supports those who are interested in the moving arts.
---
Suggested $17 a class, but ARENA DANCES offers a pay-as-able option on all classes. We would rather you join us than not be able to attend due to financial limitations.
Flexible 10-Class Pass Cards are available for a savings of $2/class ($150 total).
Pre-registration with payment through PayPal is now REQUIRED. In order to complete your class registration, please CLICK HERE and follow the link to pay for class. Payment through PayPal is highly encouraged and preferred, but cash is welcome at the door if necessary.

You can cancel a pre-registration before class starts via email to arenadances@gmail.com, but you will receive a credit to use for another class. No refunds will be issued unless ARENA cancels a class. No credits will be given once the class starts or if you do not show up for class.

Please email arenadances@gmail.com with any questions.
The Arena
711 W. Lake Street, Studio 308
Minneapolis, Minnesota 55408
arenadances@gmail.com
612.804.0238
---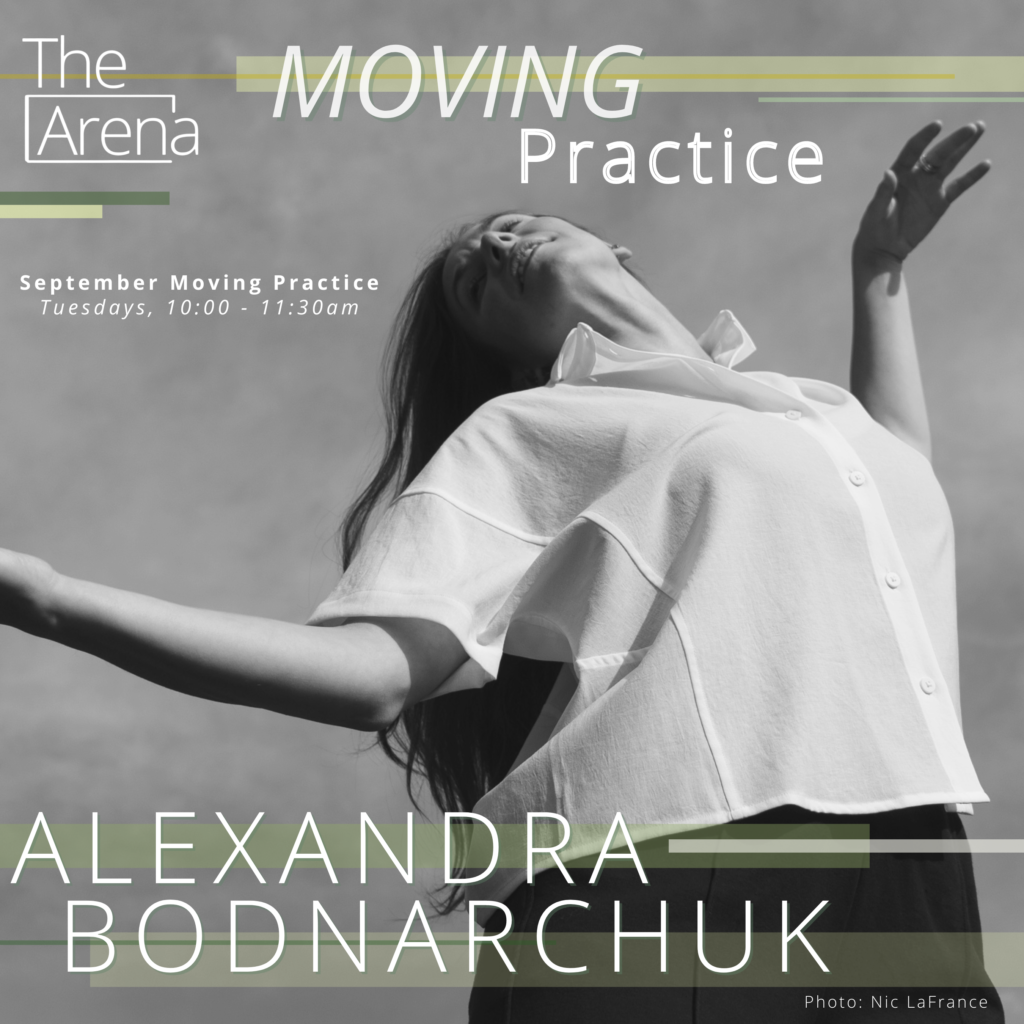 Alexandra Bodnarchuk leads September Moving Practice
Tuesdays in September | 10:00 – 11:30am
September 5 • September 12 • September 19 • September 26
Please see instructions above for more information on class registration and payment.
"Class will begin a full bodied warmup to get all the big and small joints moving before progressing to across the floor movement patterns derived from Balkan footwork. Articulation, partnering, and walking patterns will be explored. Participants will also learn phrase work from Bodnarchuk's 2023 work Rock, Paper, Scissors."
-Alexandra Bodnarchuk
Alexandra is a Carpatho-Rusyn American choreographer based in Minneapolis, MN who makes works for the stage and screen. She is a 2022 & 2020 Jerome Hill Artist Fellow Finalist (Jerome Foundation) and a 2021 Ann & Weston Hicks Choreography Fellow at Jacob's Pillow. She is studied in Western, Central, and Eastern European, Balkan, and Ghanaian folk dance traditions. Her most recent work, evening length duet Rock, Paper, Scissors, was presented at The Southern Theater in March '23. Mentors for this process were Abby Zbikowiski (Abby Z and the New Utility), and Andrea Miller (Gallim Dance).
She has been commissioned by Threads Dance Project, the Performing Institute of Minnesota, and Alternative Motion Project. Her work has presented work at The Cowles Center for Dance & the Performing Arts, Candy Box Dance Festival/Arena Dances, Zenon Dance Zone, Future Interstates, and 9×22 dance lab at the Bryant Lake Bowl.
She has performed in works by Minneapolis based artists Berit Ahlgren, Helen Hatch, Carl Flink, Jeffrey Peterson, Ethnic Dance Theatre, April Sellers, Rosy Simas, BodyCartography, and Laurie Van Wieren. In 2021 she was part of Polish artist Paulina Olowska's work, Grotesque Alphabet, at the Walker.
She holds a B.F.A. in Dance Performance and Choreography from Ohio University.
dance class dance class dance class dance class open class op
---
Rent The Arena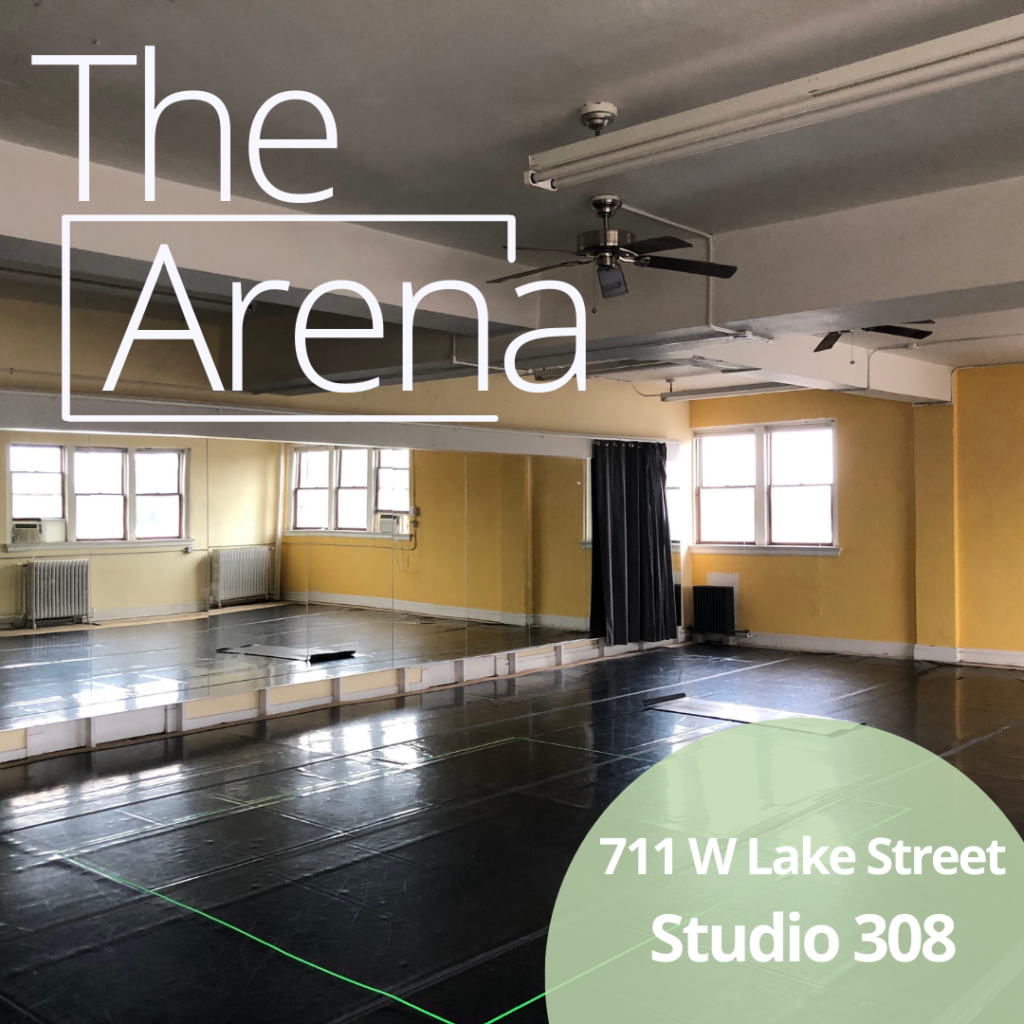 Need a space to create?
Located in the heart of the LynLake neighborhood, The Arena is available for your rehearsal, class, and event needs!
Our space offers 1,305 square feet, 30'×40′ of sprung floor, Marley dance flooring, wall-length mirrors (with curtains to cover if preferred), free wifi, and a changing room.
We are situated on multiple bus lines, including the 21, 4, 23, 612, and 18; with plenty of free, street parking around the building.
To request space, please email arenadances@gmail.com
The Arena
711 W. Lake Street, Studio 308
Minneapolis, Minnesota 55408

arenadances@gmail.com
612.804.0238