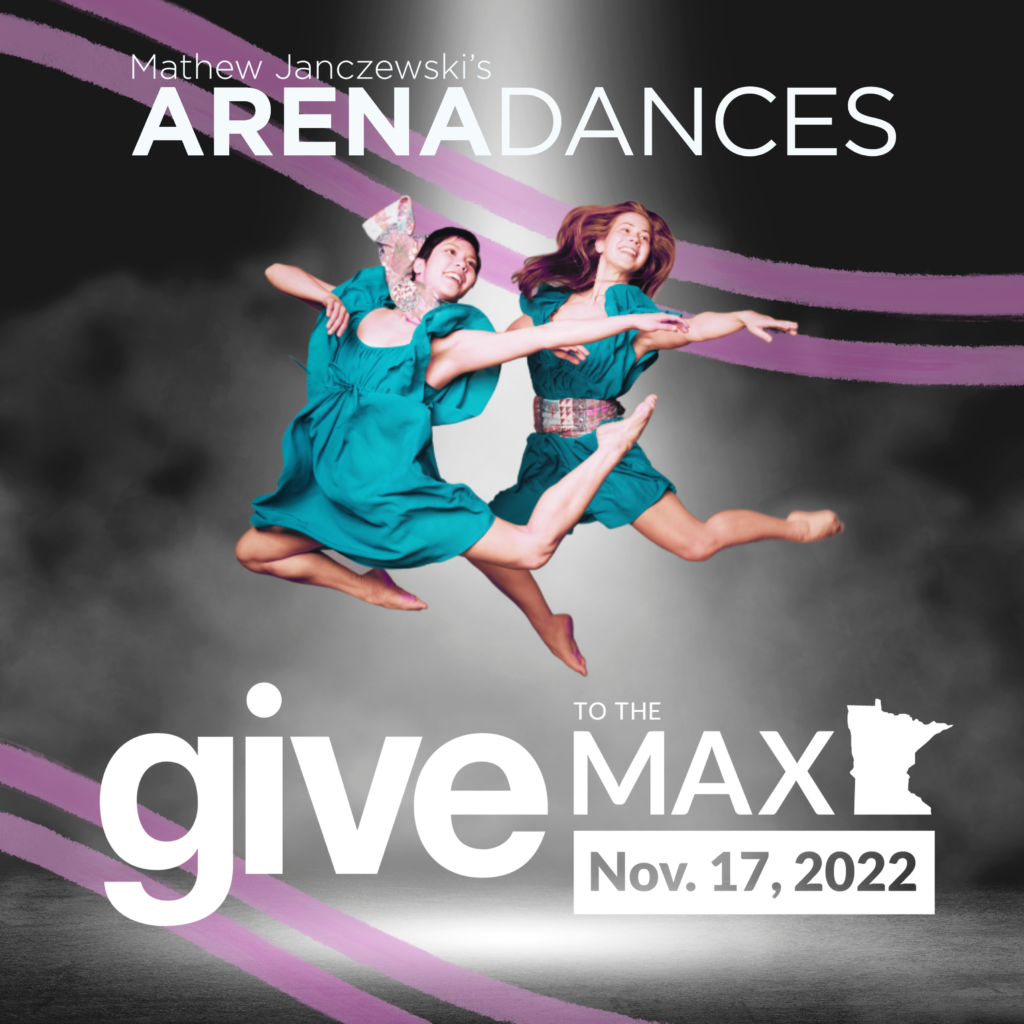 It's that time of year to Give to the Max!

ARENA DANCES is participating in the 13th annual Give to the Max giving event taking place this year starting on Monday, Nov. 1, 2022 and culminating on Thursday, Nov. 17, 2022. Give to the Max is a statewide giving event that raises millions each year for more than 6,000 causes across Minnesota and beyond. Considered Minnesota's holiday for generosity, donors have given more than $225 million since the inaugural Give to the Max Day in 2009.
---

Please consider making a generous gift to ARENA DANCES this November to support numerous impactful upcoming projects in the 2022/2023 season, including:
The continuation and expansion of ARENA's DanceON educational outreach program, focused on incorporating dance into K-12 Minneapolis Public Schools, along with the development of workshops for professional performing artists to acquire skills of dance pedagogy to teach in these K-12 academic settings. This season, DanceON will hold residencies in the Hall STEM Academy, Lucy Laney Community School, Whittier International Elementary, and North Community High School in Mpls and Creative Secondary Arts in St. Paul.
The 7th Annual CANDY BOX Dance Festival, which aims to offer masterclasses, panel discussions, performances featuring both emerging and established choreographers, and more taking place April 24 – 29, 2023 at The Southern Theater.
Sponsor a dancer towards the research for ARENA's next work entitled Erased Steps, beginning with the $6,000 needed for movement generating rehearsals starting in January 2023, featuring Dustin Haug, Leslie O'Neill, and Laura Selle Virtucio. Erased Steps will premiere in Fall 2023 with a cast of 12-16 Twin Cities dancers at the Union Depot in St. Paul.

---
Our combined goal is to raise $12,000 this GTTM Season to further ARENA's impact in creative education, arts engagement, and curation of live performances.
We thank you for your contribution and consideration.