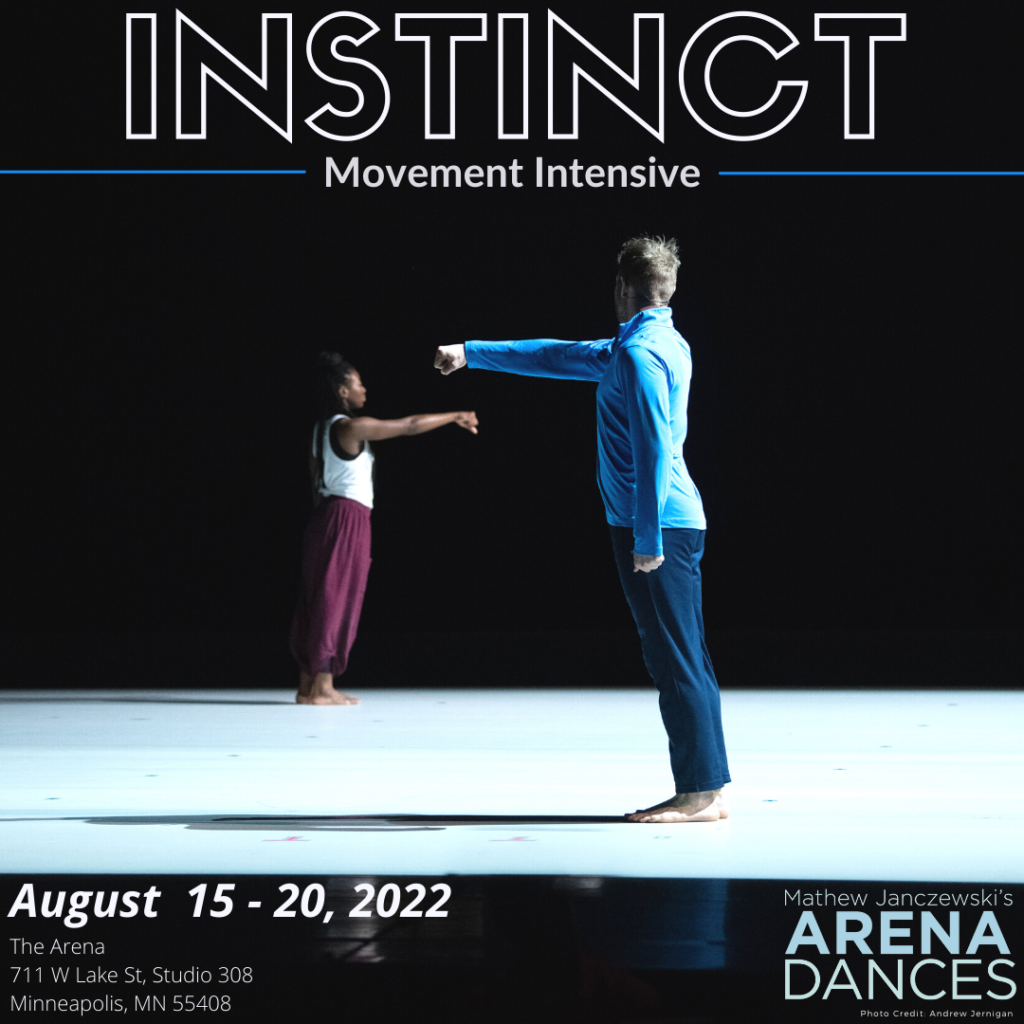 Join

ARENA DANCES

for one-week of movement classes taught by
guest artist

Shane Larson

, member of the renowned Bill T. Jones/Arnie Zane Dance Company.
---
During class, dancers will build a bottom to top, floor to standing modular class that deepens with task-based repetition, while encoding new movement pathways through basic shapes. Students are encouraged to learn-by-doing, rather than to learn and 'perform', relying on muscle memory to strengthen pathways. Architectural forms of the body are created, deconstructed, and recycled within the containers of momentum and temperature, offering a full-body, far-reaching experience of movement.
After class, dancers will focus on creating—using skills as scaffolding for building material as a community. You'll spend time talking about memory and time, graphing separate experiences together to focus and distill common patterns, shapes, and anecdotes. The final object created will be an investigation that is distinctly your own and something that can be taken into future experiences.
Participants will practice contemporary dance technique and learn a new original work as a part of this intensive. Targeted for the high-intermediate to advanced level dancer.
---
By participating in Instinct, dancers will have the chance to:
Build a stronger artistic network by connecting with Shane Larson, the longest standing member of the Bill T. Jones/Arnie Zane Company
Spend a week of intense focus developing your movement craft and creation technique
Learn and generate repertory by Shane Larson to possibly perform as a Happy Hour group at the 7th Annual CANDY BOX Dance Festival in April 2023
Be considered for an apprenticeship with ARENA DANCES for new work Erased Steps, premiering August 2023
---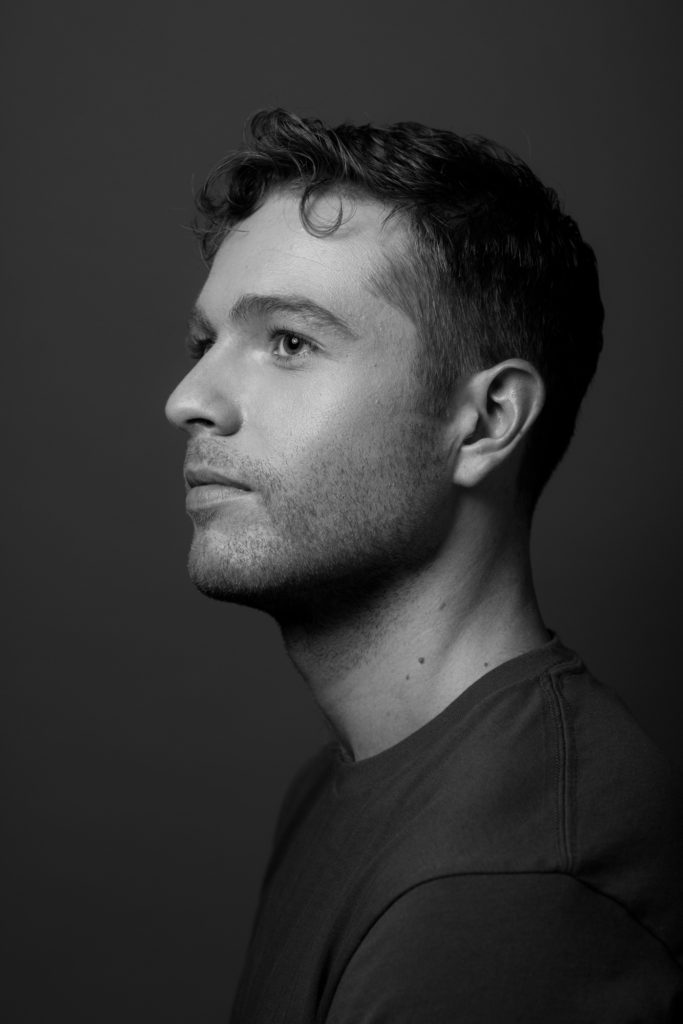 Shane Larson was raised in Minnesota, where he received his early training at the St. Paul Conservatory for Performing Artists. He graduated from NYU's Tisch School of the Arts, with a BFA in Dance and a minor in Child and Adolescent Mental Health Studies. He also studied at SEAD in Austria. Since living in New York City, he's branched out to collaborate with punk musicians, film makers, improvisational music ensembles, and site-specific visual artists. He is also a multimedia video artist making collage-based work about memory. Shane joined the Bill T. Jones/Arnie Zane Company in 2015.
Photo by Maria Baranova
---
August 15 – 20, 2022
1 week, Monday through Saturday
10:00am – 3:00pm daily
10:00 – 11:30am | Contemporary movement class
12:00 – 3:00pm | New work rehearsal
Ages 16+ | Intensive capped at 15 participants
---
CONTEMPORARY WITH SHANE OPEN TO DROP INS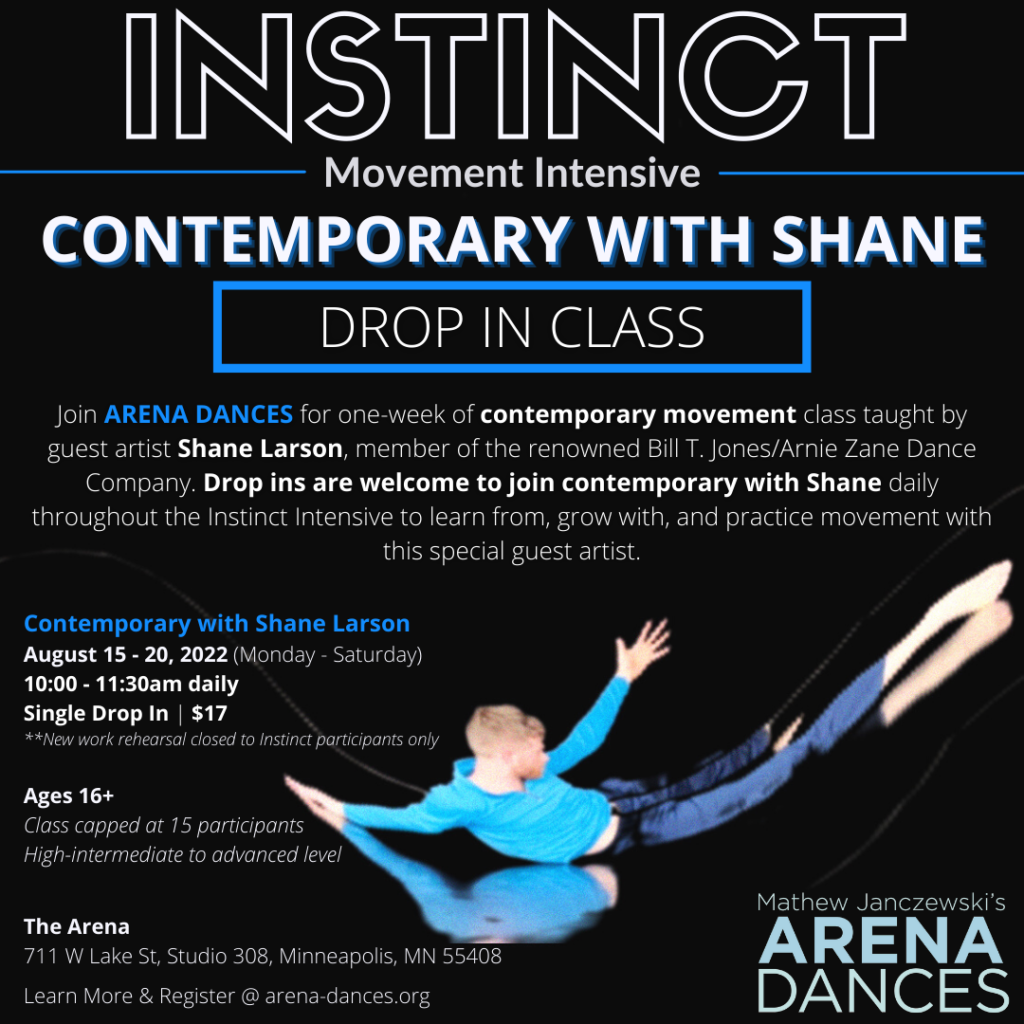 ---
REGISTRATION
Registration is CLOSED for the Instinct Intensive, but dancers are welcome to drop in to Shane Larson's Contemporary class everyday throughout the week! To pay for the $17 drop in, please use MindBody or Paypal below:
---
711 W Lake St, Studio 308
Minneapolis, MN 55408
---
If you have any questions or would like to learn more about the 2022 Instinct Movement Intensive, please reach out to Mathew Janczewski, Founder/Artistic Director of ARENA DANCES, at arenadances@gmail.com or (612) 804-0238