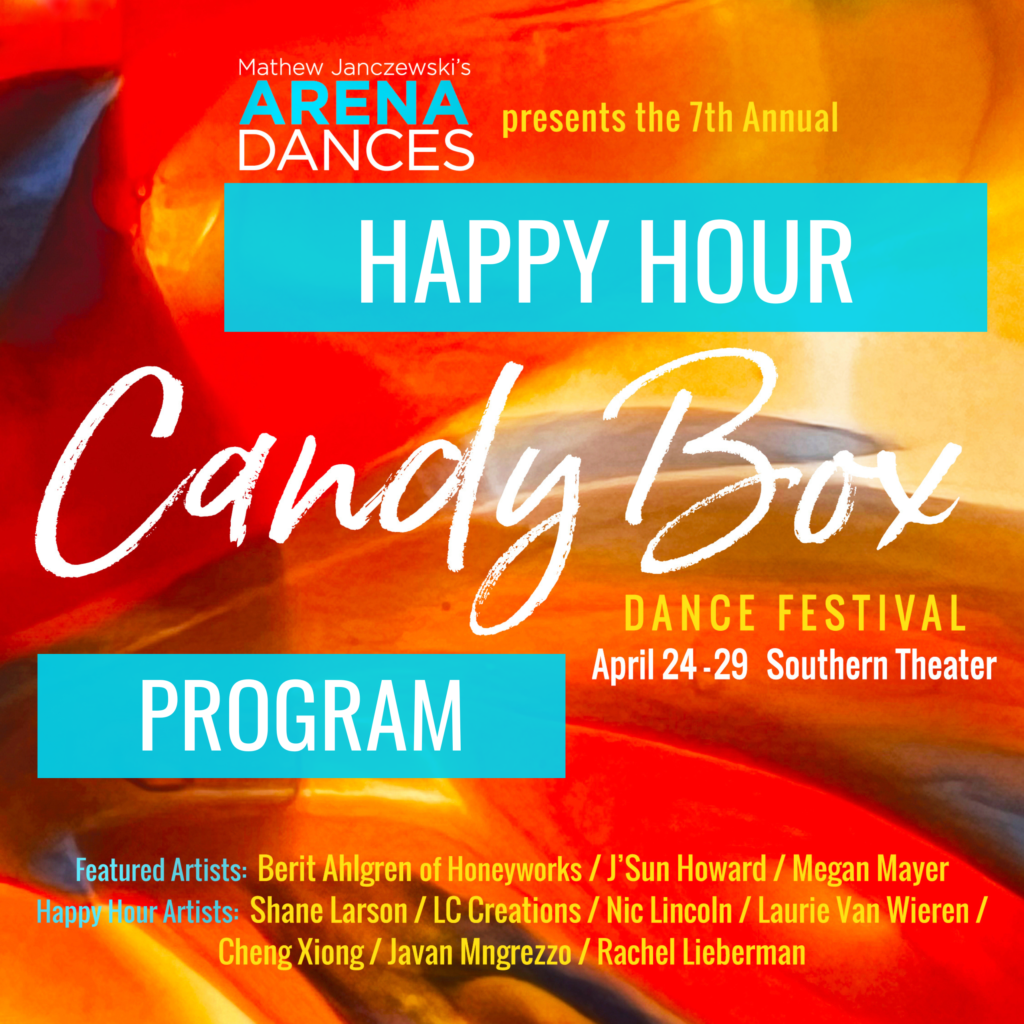 ---
Mathew Janczewski's ARENA DANCES presents the 7th Annual CANDY BOX Dance Festival, a dynamic sampling of featured performances, masterclasses, and public showings.
Happy Hour Artist performances are daily work-in-progress showings by locally established and up-and-coming choreographers. Each day, a different choreographer will present a new work or excerpt from their extensive repertoire, sharing a delightful array of artistry throughout the week!
---
CANDY BOX Dance Festival is a unique celebration of dance, packed with a wonderful assortment of various tastings that include renowned choreographers, accomplished dancers, and fresh movement styles all perfectly packed into one sweet treat of a week. It is an opportunity for diverse emerging and established artists to share the performance stage, with the addition of selected artists leading intimate workshops to offer a welcoming space for communal movement education, and in doing so gathering a range of tastes for varied audiences. From Featured Artists performances by nationally notable choreographers and collectives, to Happy Hour showings by exciting local dancers and emerging creatives, CANDY BOX is sure to offer a flavor for every performing arts enthusiast to savor and enjoy. Along with daily performances and masterclasses hosted throughout an impressive six day streak, question-and-answer sessions are offered for additional insight and rare sneak peeks into the engaging works created and designed by each artist exclusively for the festival. Audiences are sure to experience a wide array of artistry, offering a unique flavor in every bite.
"Establishing a career in dance can be challenging and isolating. That's why coming together every year like this is so crucial; it creates the learning opportunities and personal connections people need in order to realize their full artistic potential. And by extending the support of the dance community to the next generation of talented makers, we help keep the scene vital and strong." – Mathew Janczewski, Founder + Artistic Director of ARENA DANCES
The Southern Theater


1420 S Washington Ave, Minneapolis, MN 55454
The Southern Theater, where the CANDY BOX Dance Festival takes place, is situated on the traditional, ancestral, and contemporary lands of the Dakota and Anishinaabe people. Indigenous people from other Native nations also reside in Minnesota and have made innumerable contributions to our region.
This information is only a small part of supporting the indigenous community here. To learn more on the histories and cultures of Native people and nations and perhaps donate time and money to indigenous-led organizations such as Native Governance Center, All My Relations Arts, Native American Community Development Institute, among others.
---
HAPPY HOUR ARTISTS
Schedule:
Daily, 5:30 – 6:30pm
Monday, April 24 – Nic Lincoln
Tuesday, April 25 – Cheng Xiong and Javan Mngrezzo
Wednesday, April 26 – Shane Larson and Rachel Lieberman
Thursday, April 27 – Laurie Van Wieren
Friday, April 28 – Lily Conforti
---
Monday, April 24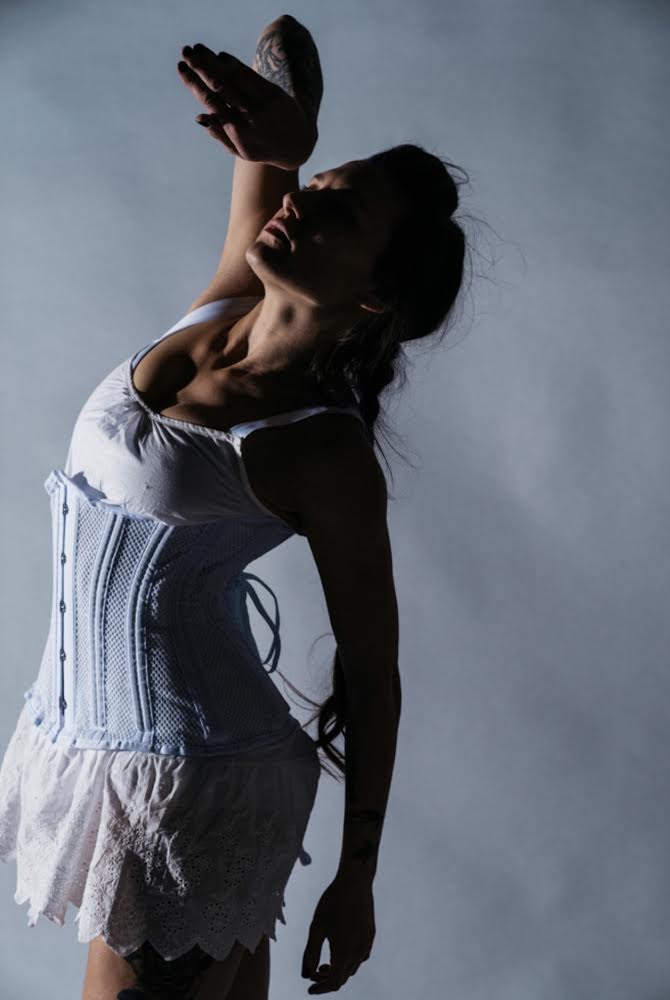 Escalade
Choreography by Nic Lincoln
Escalade is a non-linear abstract work choreographed by Nic Lincoln featuring Gemma Isaacson. Escalade's themes include women's rights, Roe vs. Wade, bodily autonomy rights, and non gender conforming principles. Lincoln explores how emotional support animals can present a pathway towards healing.
Performed by: Gemma Isaacson and Nic Lincoln
Collaborator & Costumes: Costume designer to the stars, DJ Grammen II
Sound: Dawn of Midi
Special thanks to: To Sam, Jaxon, and Porter. To the moon and back.
Note from the Choreographer: Don't reschedule joy!
CLICK HERE TO LEARN MORE ABOUT NIC LINCOLN
---
Tuesday, April 25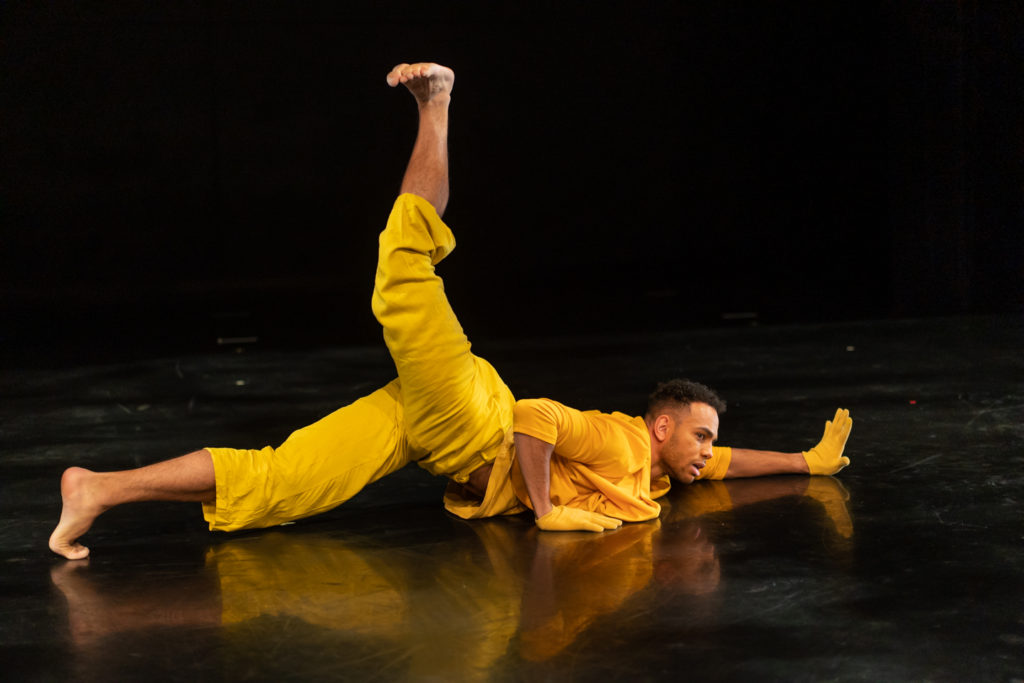 Ne'er to bout 'gainst generous woes
Choreography by Javan Mngrezzo
"And more perturbing is this…the power given to things we yet could control."
Performed by: Shannon Hartle Dolan, Rachel Lieberman, Javan Mngrezzo, and Jake Nehrbass
Sound: H. Takahashi, Spurz, Murcof
Costumes: The cast
Note from the Choreographer: This presentation is a work in progress and has been shortened and condensed from its original configuration for the showing.
CLICK HERE TO LEARN MORE ABOUT JAVAN MNGREZZO
---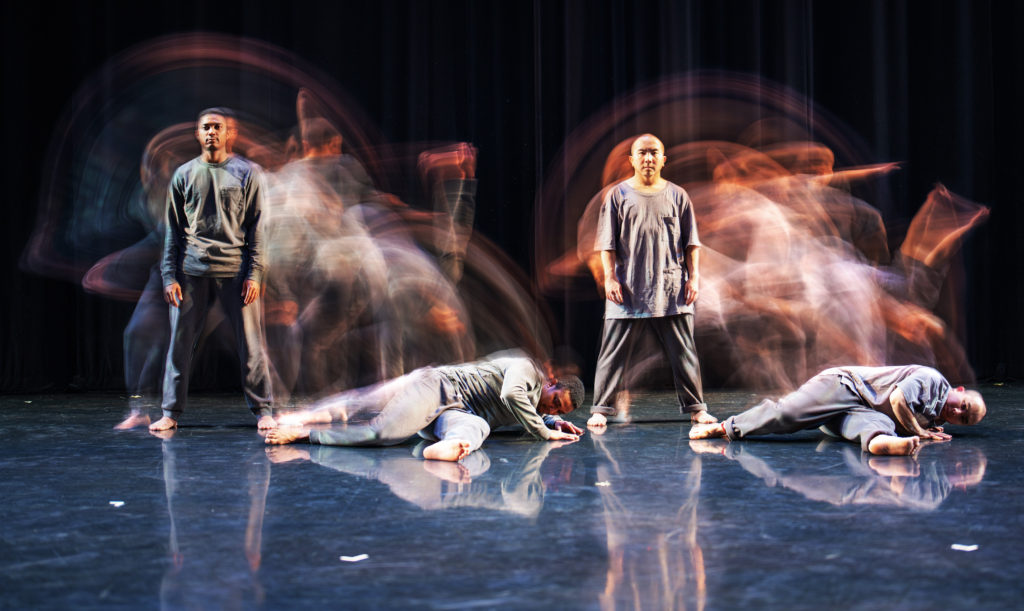 Penumbra
Choreography by Cheng Xiong
As we grow older the voices surrounding us become louder with feelings of subjection and depreciation. This piece discovers moments of manipulation, self expression, and the emergence of one's journey.
Performed by: Cheng Xiong and Ian Smith
Collaborators: Ian Smith
Sound: Grails
Costumes: Cheng Xiong
Note from the Choreographer: There will be a talk back after the show.
CLICK HERE TO LEARN MORE ABOUT CHENG XIONG
---
Wednesday, April 26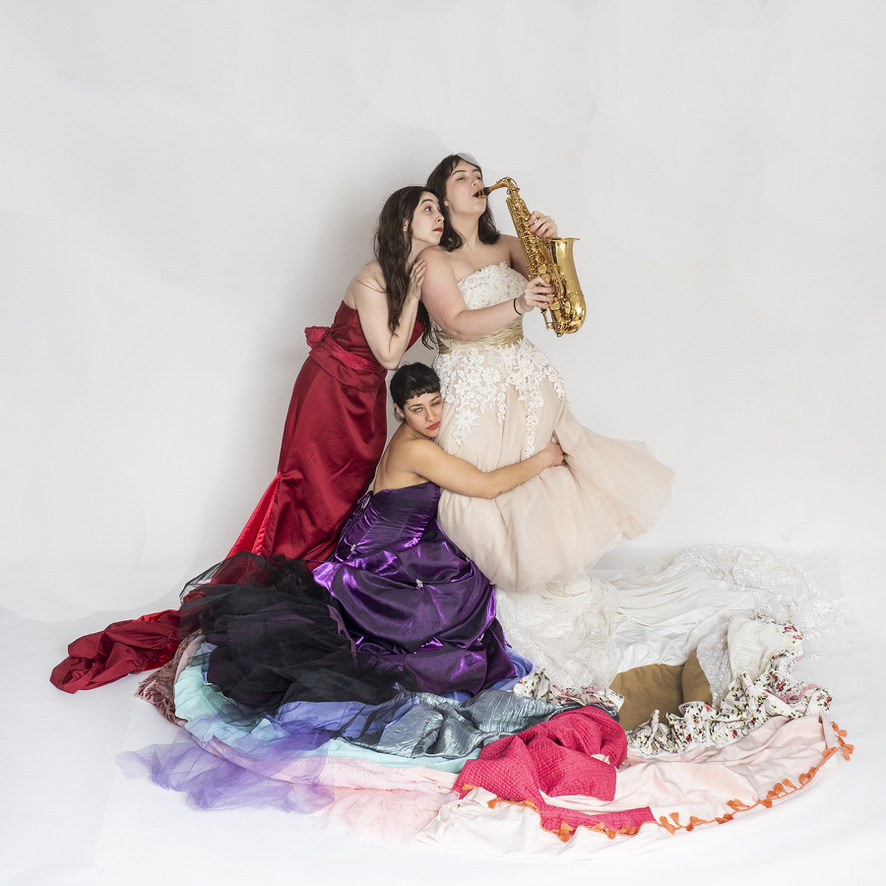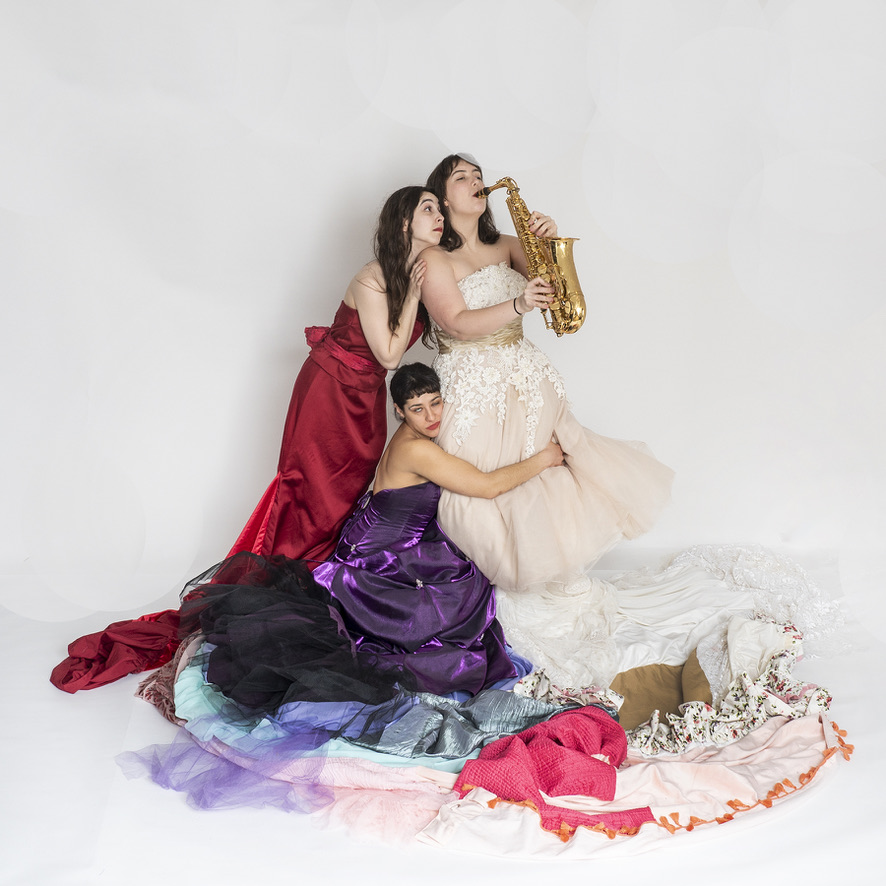 Forgive, Forget, & the Fool
Choreography by Rachel Lieberman
Romance. Saxophone. Heartache. Dance. Heartbreak. Three Bachelors in Paradise and a giant dress. Forgive, Forget and the Fool. Spend 20 minutes riding this roller coaster called life and love with us. Restart, Reset, Return. Love us forever and we'll love you back.
Performed by: Rachel Lieberman (mover), Addie Smith (mover), Anna Dolde (saxophonist)
Sound: Anna Dolde (live saxophone), 'Please Love Me Forever' by Bobby Vinton (recorded track), headtriiip (sound design)
Costumes: Heather Mackenzie (primary textile artist)
Special thanks to: Sarah Mcullough (early process mover), Sequoia Hauck, and Mia Frieberg (for teaching me how to sew), and advisors Carl Flink, Mathew Janczewski, Joanna Lees, Gabriel Rodreick, Taja Will, and Micheli Vazquez.
CLICK HERE TO LEARN MORE ABOUT RACHEL LIEBERMAN
---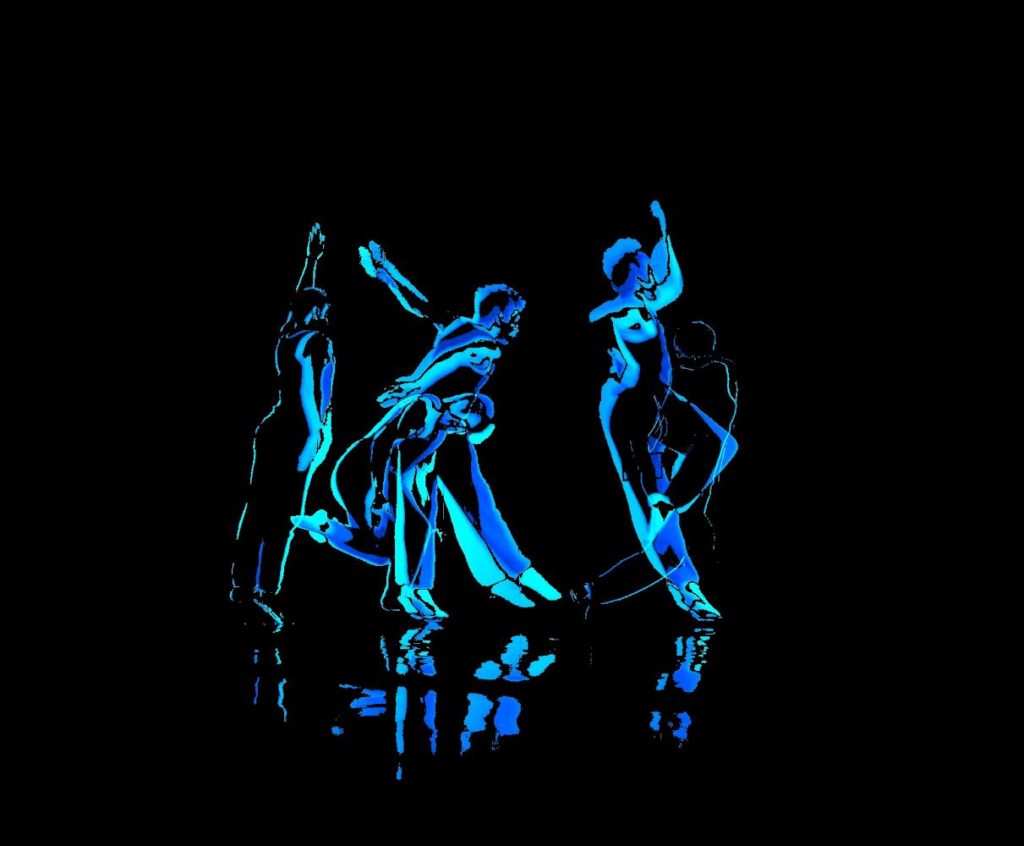 How was your day off?
Choreography by Shane Larson (in collaboration with the performers)
How was your day off? is a movement exploration that attempts to capture and expand the small fleeting moments which compose each day. It refers to the day to day rituals which can come into proximity with or parallel one another, and how their inner mental pathways connect to outer pathways of the physical body.
Performed by: D Hunter, Lillian Kline, and Shane Larson
Collaborators: The cast
Sound: Shane Larson, with excerpts from Broadcast & K. Freund
CLICK HERE TO LEARN MORE ABOUT SHANE LARSON
---
Thursday, April 27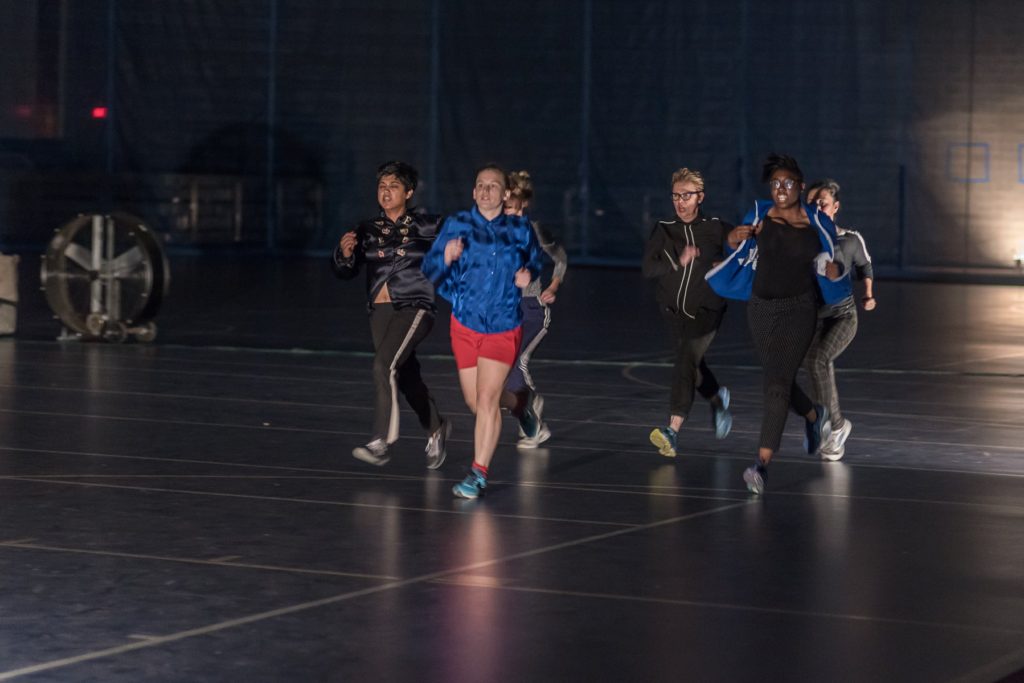 Precarious Disclosure: a work in progress, an improvisational performance
Choreography by Laurie Van Wieren
How do we do this now?
Choreography/Scores: Laurie Van Wieren
Performed by: Alys Ayumi Ogura, Jules Bither, Michelle Kinney, Anna Marie Shogren, Pramila Vasudevan, and Laurie Van Wieren
Music: Michelle Kinney
CLICK HERE TO LEARN MORE ABOUT LAURIE VAN WIEREN
---
Friday, April 28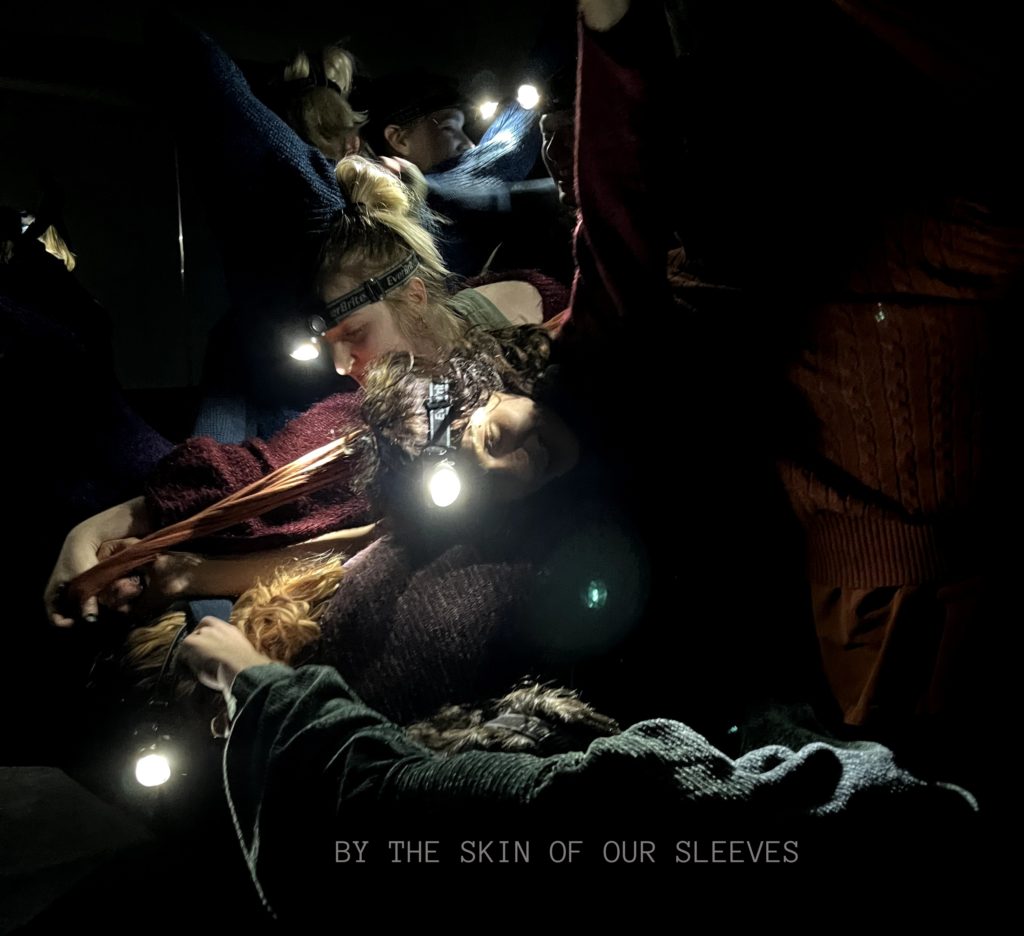 By the skin of our sleeves
Choreography by Lily Conforti
By the skin of our sleeves begins to explore how our human senses shape and distort the lens through which we experience the world. We incorporate headlamps, jangling keys, and tactile stretchy sweaters to play in this idea.
Performed by: Annie Carlson, Aubrey Clark, Erin Evans, Hunter Batterson, Lily Conforti, Milo Sachse-Hofheimer, Philip Hommes, Sophia Louwagie, Tessa Russ, Vy Nguyen
Collaborators: The cast
Sound: "Another Night" by Cody High; "Carefully" by Little People; "Order from Chaos" by Max Cooper; "O.D." by Polyphia; "Mother" by Idles
Costumes: Lily Conforti
Note from the Choreographer: Take out your keys and play along with us! Dancers will lead you through a "key jangling" music creation at the top of the show. The show finale will give rise to a short dance party where you are invited to don a slouchy sweater and come on stage with us to be a part of the work.
CLICK HERE TO LEARN MORE ABOUT LILY CONFORTI
---
ARENA DANCES Leadership:
Founder & Artistic Director: Mathew Janczewski
Creative Design Manager: Hunter Batterson
CANDY BOX Assistant: Kaitlyn Hawkins
CANDY BOX Poster Design: Diane Waller
Board Of Directors:
Catherine Dannenbring, Chair
Marisa Epstein
Betsy Maloney Leaf
Deanna Thompson
---
We extend a special thank you to our Donors, Season Sponsors, and Event Donors:
THANK YOU TO OUR GENEROUS SUPPORTERS
Based on Calendar Year. Updated Quarterly – Last Updated April 24, 2023
SUSTAINER ($1000+):
Kathleen & Paul Campbell, Susan Leaf, Heather & Kent Pilakowski, Milo Pinkerton & Virgil Taus, Rick Schaefer, JoAnne Janczewski, Jake & Hope Armour
LEADER ($500-999):

PROMOTER ($250-499):
Beth Fisher and Caroline Glawe, Emily Maltz – Dale Schatzlein and Emily Maltz Fund of The Minneapolis Foundation, Ron Lotz & Randy Hartten, Kerry Keen & Nina Ebbighausen, Ron Lotz, Don Ofstedal & Jerry Lee
SUPPORTER ($100-249):
Alex & Natalia Berglund, Mary Hansmeyer, Roger & Claryce Haug, Rebecca Heist, Jerome & Judith Ingber, Heather Klopchin, Steve & Jenni Norlin Weaver, Kelley Lindquist, Catherine & Jason Malmberg Dannenbring, Holly Schramm, Frank Rhame & Beverly Anne Christie, Sandy Simmons & Kevin Kunz, Joan Bren, Neal Cuthbert & Louise Robinson, Tom Hoch, Betsy Husting, Caryn Miles, Mary Jo Peloquin, Dennis Yelkin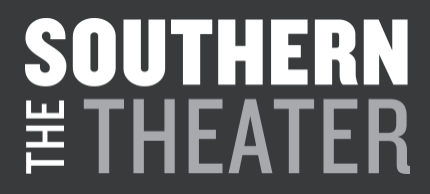 This festival is also made possible with the support of the following: