Leila Awadallah (she/her) is a dancer, choreographer, and filmmaker based between Minneapolis and Beirut. A body of indigenous Palestinian, Arab-American, SWANA, Sicilian and mixed Mediterranean ways and waves. She is the founder of the Body Watani dance project in partnership with Noelle Awadallah. TERRANEA is supported by NPN, Arab American National Museum, MSAB, ARENA, Links Hall, [Lebanon]: BIPOD, Amalgam, Goethe Institute and [France]: the Camargo Foundation. She is a Jerome Hill Fellow (2021-2023), has a BFA in Dance from the University of Minnesota, and performed with Ananya Dance Theatre for 5 seasons.
DESCRIPTION OF WORK:
TERRANEA: hakawati of the sea is a dance performance of diasporic bodies searching for memories inside water and skin, to reflect on notions of home while simultaneously asking — what do the waves of the Mediterranean Sea remember? Of loss, of life, of the relations between peoples and place?
In blurring researched realities and mythology-making, TERRANEA examines Palestinian experiences of occupation, refugee crisis (of land AND sea), and politics around movement and nation within this body of water where many lines are drawn. At which point amongst the waves does a body become illegal?
But how strong are lines in a fluid space, where so many dreams are – and have always been?
A folk song for the valley sung by a woman in the wadi of Palestine, hummed by a fisherman of Gaza, travels on winds passed Lampedusa and into the lungs of a friscalleti player of Sicily ; we surrender to the water and depart/return into dream. A sea spirit, Terranea, emerges as mother for those lost in waves,  — welcoming souls of migrants into a fluid and mythical shared space, where the sea is reimagined as a site of collective, shared home.
IF YOU WERE A TYPE OF CANDY, WHAT TYPE OF CANDY WOULD YOU BE AND WHY?
A lemon drop made from lemons of the Mediterranean region. Sweet and sour. Sometimes, offering a delightful nostalgia, while other times giving you a sour kick to awaken your senses and get your energy flowing. If you can have patience, and resist the temptation to crunch, it will stay with you until it dissolves and becomes part of you!
---
FEATURED ARTIST PERFORMANCES 
May 5 – 7:30pm
May 6 – 7:30pm
May 7 – 2:00pm & 7:30pm
---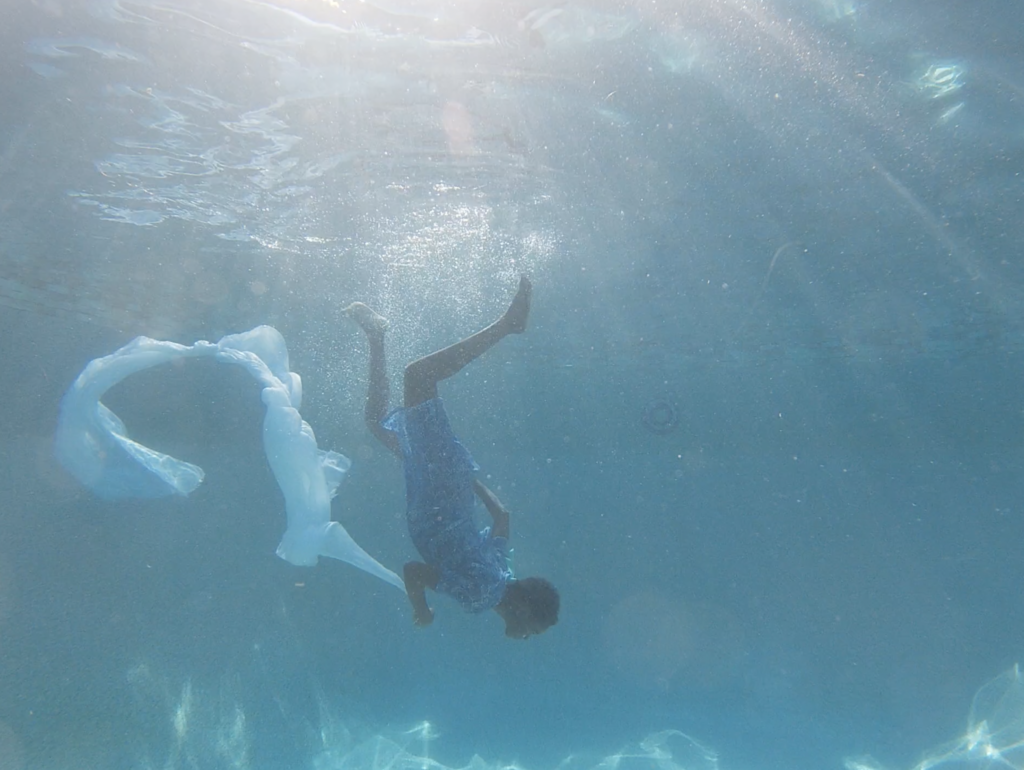 An image completely blue and under water, Sharitah, Black body in a blue dress dives head first holding a twisting, long white fabric to her chest. Bubbles and sunlight at her feet are visible as we see the surface from below.
Photo by Leila Awadallah
---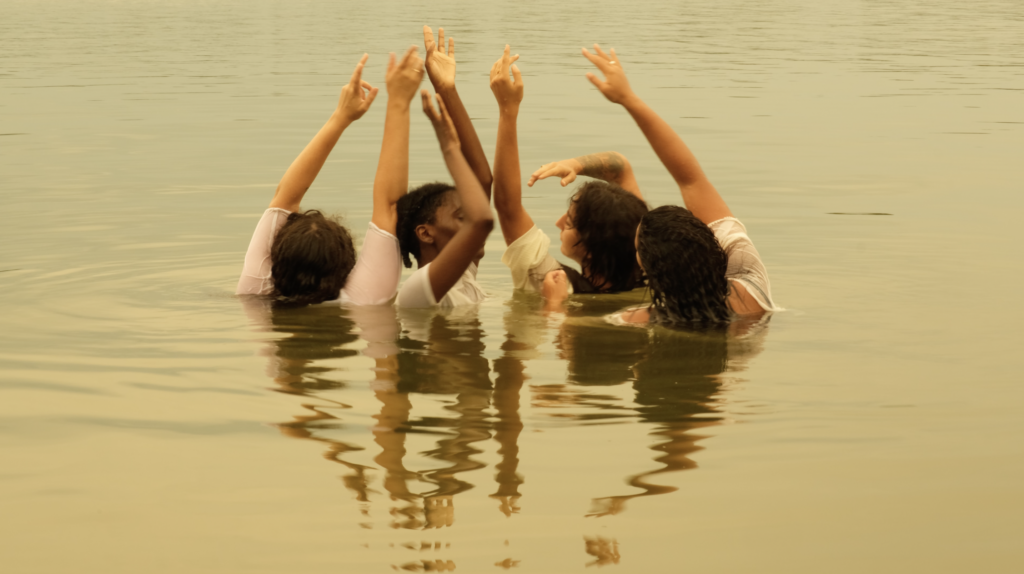 Submerged in water, visible from shoulders up, four dancers reach their Black and brown arms toward one another, which can be seen in a reflection that mirrors their shape. Sepia tones color the image, and the faces of Nakita Kirchner, Sharitah Narule, Noelle Awadallah and Alex Eady are partially or completely turned away from the camera.

Photo by Leila Awadallah
---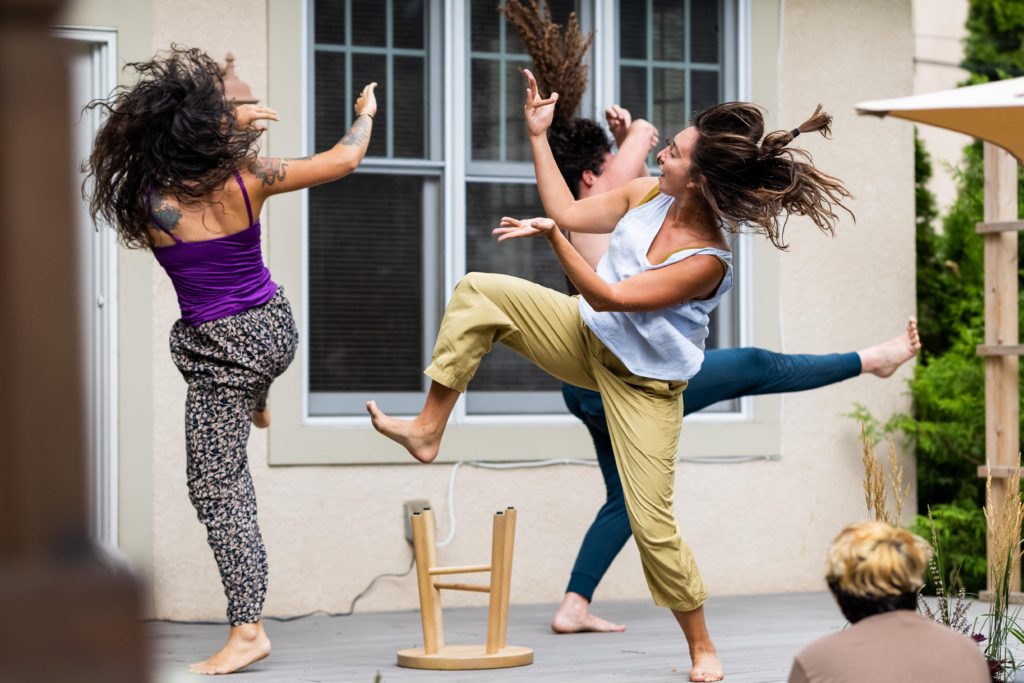 Three dancers with long brown hair swinging are dancing joyfully in a circle around an upside down stool, with one leg up and arms reaching out. They are outside and a window is behind them, with green trees reaching in on the right side (Noelle Awadallah, Nakita Kirchner, Leila Awadallah).

Photo by Andres Perez