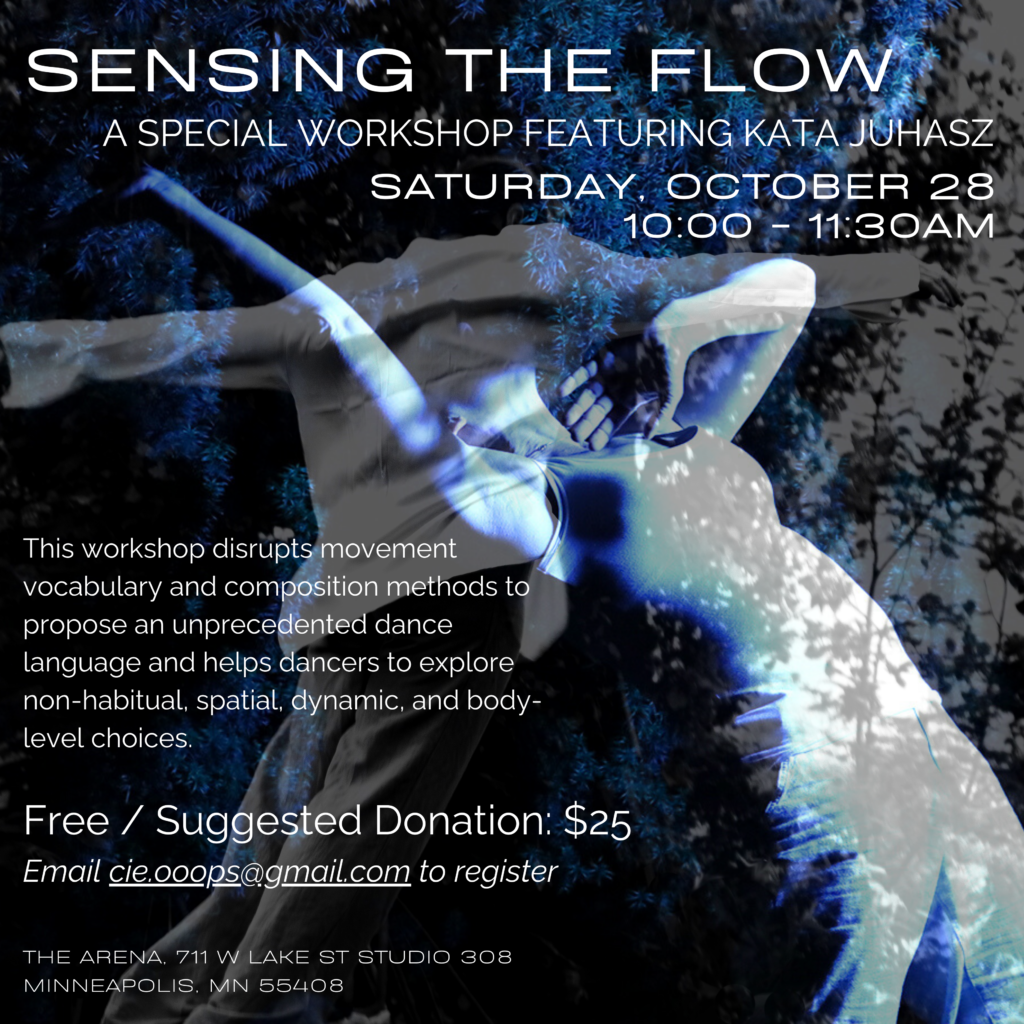 SENSING THE FLOW
Workshop with Kata Juhasz
Saturday, October 28
10:00 – 11:30am
The Arena
711 W Lake St, Studio 308
Minneapolis, MN 55408

FREE / Suggested Donation: $25
Email cie.ooops@gmail.com to register
SENSING THE FLOW
Intermediate Level
After an exhilarating released technique based technical warm-up, which allows body flowing
movements in space we will have a short phrase followed by some creative improvisation tasks.
The exercises open up and disrupt movement vocabulary and composition methods to propose an
unprecedented dance language and helps dancers to explore non-habitual, spatial, dynamic and
body-level choices.

During the workshop we are going to focus on the body`s movement possibilities and the initiation
of the movement. We are going to analyze the anatomical movements in space. Every joint of our
body has its range of movement and there are countless combinations possible. The body possesses
a great practical knowledge, that goes way beyond what the mind's consciousness is able to process,
about its anatomy and its mechanics, their actions and reactions, and their interactions with external
forces with gravity, centrifugal- and centripetal force, another body, space etc.

We will take advantage to create forms, rhythms, movement qualities and trajectories far more
sophisticated than the ones our conscious mind could invent. We will be guided out of our habitual
tracks, patterns will be distorted or overridden.

In addition to the work on the individual body we're going to focus on composing the movement of
a group too. The movement of individuals within a group can be connected and united. Shapes or
positions in space can be related and given the visual equivalents of harmony or dissonance and we
as dancers can also create connections referring to past or future events, like melodies, rhythms and
dynamics. As a result of the workshop, a short joint group choreography is going to be created.
---
Kata Juhász is a dancer, choreographer from Budapest, Hungary. She has presented her own
choreographic works internationally since 2005. She addresses her "stage works" to specific groups
of society focusing on topics relevant to all. Her company recently developed a full repertory
targeted to different age-groups from the youngest audiences to the elderly. Her choreographies are
interactive multidisciplinary art forms merging live music, video art, spoken words, contemporary
circus and more. She was touring with her own choreographic works among others in Germany,
Russia, Israel, Denmark, Macedonia, Egypt, Poland, Slovakia, Italy, Romania and the United States.
Her first dance movie "Maya" was selected in the 42nd Hungarian Film Week competition in the
short films category and was the opening movie of CINEDANS Festival 2010 in Amsterdam.
She has been teaching contemporary dance and dance anatomy since 1996 all over Hungary and in
several countries: USA, Denmark, Poland, Romania, Japan, Germany, France, and Russia. She
founded the MU Terminal postgraduate dancers' education program in 2005 and was a
contemporary dance teacher at the Conservatory Art School in Győr.

She has had a unique dance career. Kata ice-skated in her childhood during the soviet era
and later studied classical ballet and modern dance in Budapest. She first appeared on stage dancing
in musicals, while attending Medical University then graduating as a physician. She studied
classical and Graham technique in Columbus, Ohio in 1992. She became familiar with contemporary dance at Tanzwochen in Vienna and during scholarships in Paris. In 1998 she got the chance to participate in Dance Web Scholarship Programme in Vienna. She studied one semester at
the Centre National de la Danse Contemporaine (CNDC), Angers. She is a BASI Pilates teacher as
well. From 1998-2006 she was a solo dancer of the French-Hungarian dance company, Cie. Pal
Frenak. She worked as dancer too -among others- with Carlotta Ikeda and with Nigel Charnock
(DV8).

She was awarded the Viktor Fülöp Award for Choreographers by the Hungarian Ministry of
Culture. She also received the New York based CEC Artslink Independent Project Award 2017 to
work with the Link Vostok NGO in Minneapolis. In 2018 she was a resident artist in Philadelphia
at the Bilateral Dance Artist Exchange Program of Philadelphia Dance Project. In addition to her choreographic work, recently she is working as a family practitioner in
Budapest, while attending her second specialization in sport medicine.