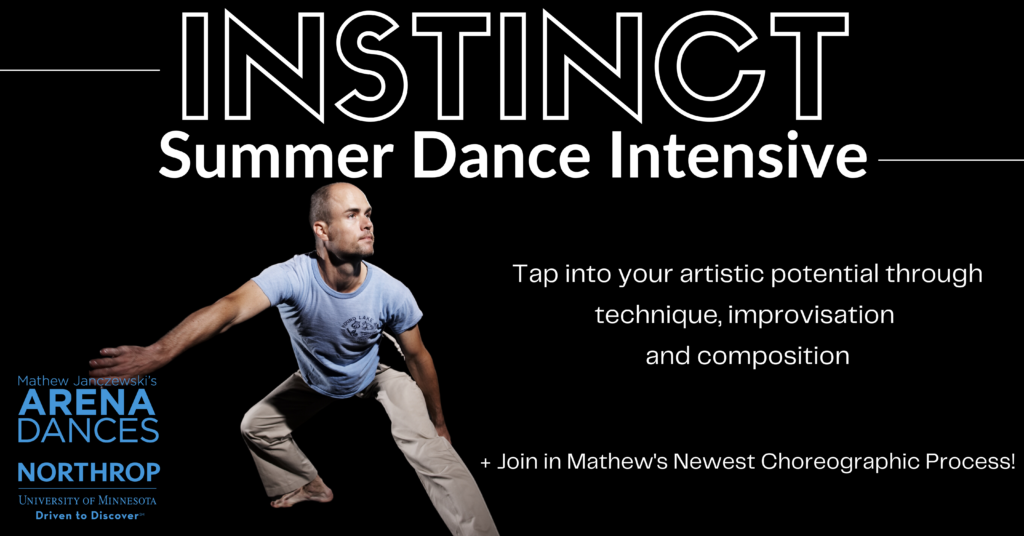 Designed for advanced pre-professional and professional level dancers, INSTINCT taps into your artistic potential through technique, improvisation and composition.
This week-long intensive provides dancers tools to take their dancing to the next level and into a career. We will explore the core of who you are as a mover, and invite that into a space of collaboration, introspection and feedback.
Dancers will participate in daily, modern technique classes and choreography development. Technique classes will be led by Artistic Director Mathew Janczewki and company dancers throughout the week. Janczewksi will also be leading the development of a new choreographic work, a unique attribute of this intensive! As a pre-professional or professional dancer, this is your opportunity to work directly with the company's choreographer and artistic director!
---
About Mathew's approach to choreography:
Co-creating Language I Intersectionality I Attention
I am fascinated by movement – the energy of it, the energy it takes to do it and the approach to how to do it. I love witnessing the discovery and curiosity of the body's internal workings to achieve expression through movement. The body's identity in space shaped my choreographic choice-making. I explore how to listen and how to hear from the whole self and ones' surroundings to better understand those with us, across from us and beyond us.
I will be generating material for a fully embodied movement experience that is visceral, kinetic and physical. This will be the beginning explorations for an untitled work (at present) to Jazz music…either Chet Baker, Bill Evans or Thelonious Monk!
---
Another component of this intensive is emphasis on career development. Artistic Director Mathew Janczewski will be available for scheduled 1:1 conversations with dancers to offer feedback specific to the dancer or share insights on the field. These conversations will be pre-scheduled for participants interested in taking advantage of this offering and take place prior to the day's start, during lunch and at the end of the day.
Summer Intensive dancers are also considered for apprenticeship with ARENA DANCES.
Hosted at Northrop's Hubbard Broadcasting Rehearsal Studio
June 14-19, 2021
10:00-3:00
Free showing at Noon on June 19th – held outdoors at the South entrance to Northrop
Daily Schedule
10-11:30 Modern
11:30-12:00 Lunch Break
12:00-3:00PM Choreography Creation & Workshop
Tuition
Early Bird discount – $450, paid in full by April 30th
Regular – $525, paid by June 1st
Option to pay in full or in two installments of $262.50. See registration form for dates
To register, please download this form. You may either 1) Complete the form digitally, email to mdarenadances@gmail and use the PayPal option below to pay or 2) Print the form and mail it to PO BOX 50261, Minneapolis, MN 55403 with a check enclosed (please no cash).