Check back shortly for info on this spring's CANDY BOX Dance Festival!
In the meantime, check out last year's to get a flavor for this unique week: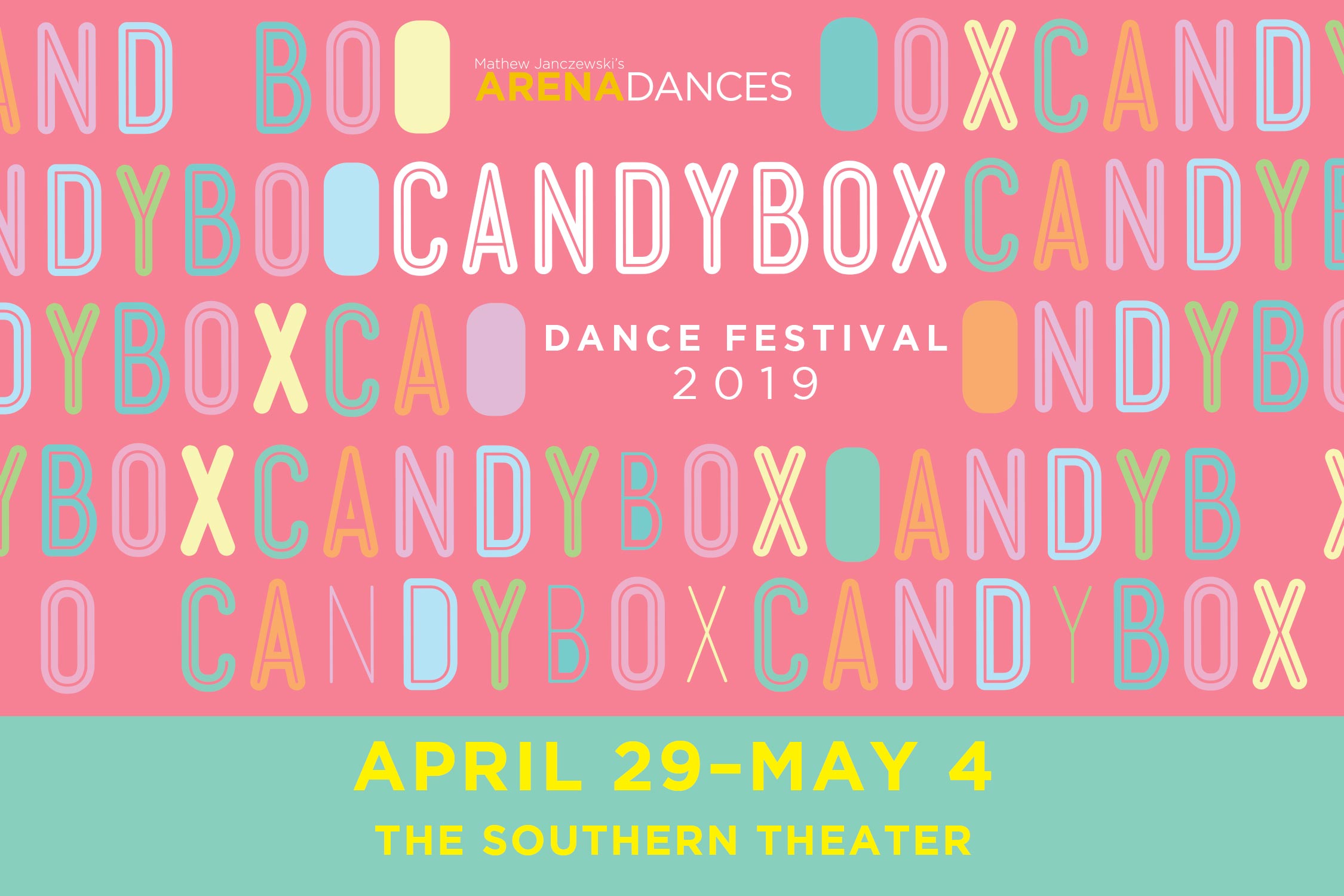 FEATURED ARTISTS April Sellers Dance Collective, Chris Schlichting, and Darrius Strong's STRONGmovement
WORKS IN PROGRESS Showings by Non Edwards, Brenna Mosser, Blake Nellis, Taja Will and ARENA DANCES
_________________________________________
Candy Box, presented by Mathew Janczewski's ARENA DANCES is an annual, eclectic gathering of performances, workshops and public showings. This year's festival features a range in levels of experiences, aesthetics and choreographic voices to offer a diverse array of treats! The festival will curate three choreographers to headline the event – each with a unique style and at a different stage in their career. There's the rising star Darrius Strong of STRONGmovement, who will bring his bold blend of hip hop and contemporary dance to the stage with two remounts, "Authentic Minds" and "Is There Only One Way?," as well as a new work. There's also the brilliant Chris Schlichting, who will debut a new duet. And finally, April Sellers, a veteran of the Twin Cities dance community, will reimagine a piece from her past, "Patriot Erectors."
"Establishing a career in dance can be challenging and isolating. That's why coming together every year like this is so crucial; it creates the learning opportunities and personal connections people need in order to realize their full artistic potential. And by extending the support of the dance community to the next generation of talented makers, we help keep the scene vital and strong." – Mathew Janczewski
CANDY BOX
Performances –
April 29 – May 4, 2019
The Southern Theater
1420 S Washington Avenue, Minneapolis
TICKETS:
To purchase click here
$20 General Admission
$12  Students and Seniors (with ID)
– Workshops and In-progress showings separate sliding scale rate
____________________________________________
FESTIVAL SCHEDULE
(Also see the Events Calendar for a listing of the daily schedule)
Featured Artists
Performances/Showtimes –
Purchase Tickets Above
Thursday, May 2 – 7:30pm PAY AS ABLE
Friday, May 3 – 7:30pm
Saturday, May 4 – 2:00pm PAY AS ABLE & ASL INTERPRETED
Saturday, May 4 – 7:30pm
HAPPY HOUR ARTISTS 5:30 – 6:30pm
(Works-in-progress showings)
Suggested Donation upon entry – All donations go to artist(s).
Monday, April 29 – Brenna Mosser Dance Works
Tuesday, April 30 – Blake Nellis
Wednesday, May 1– Non Edwards
Thursday, May 2 – ARENA DANCES
Friday, May 3 – Taja Will
WORKSHOP ARTISTS 9:30 – 11:30am
Sliding Scale $5-$15
Cash, check or card at the door!
Monday, April 29 – STRONGmovement
Tuesday, April 30 – Brenna Mosser Dance Works
Wednesday, May 1 – Chris Schlichting
Thursday, May 2 – Taja Will
Friday, May 3 – April Sellers Dance Collective
This festival is made possible with the support of the following –


*Make CANDY BOX a special date night! Here's how!*