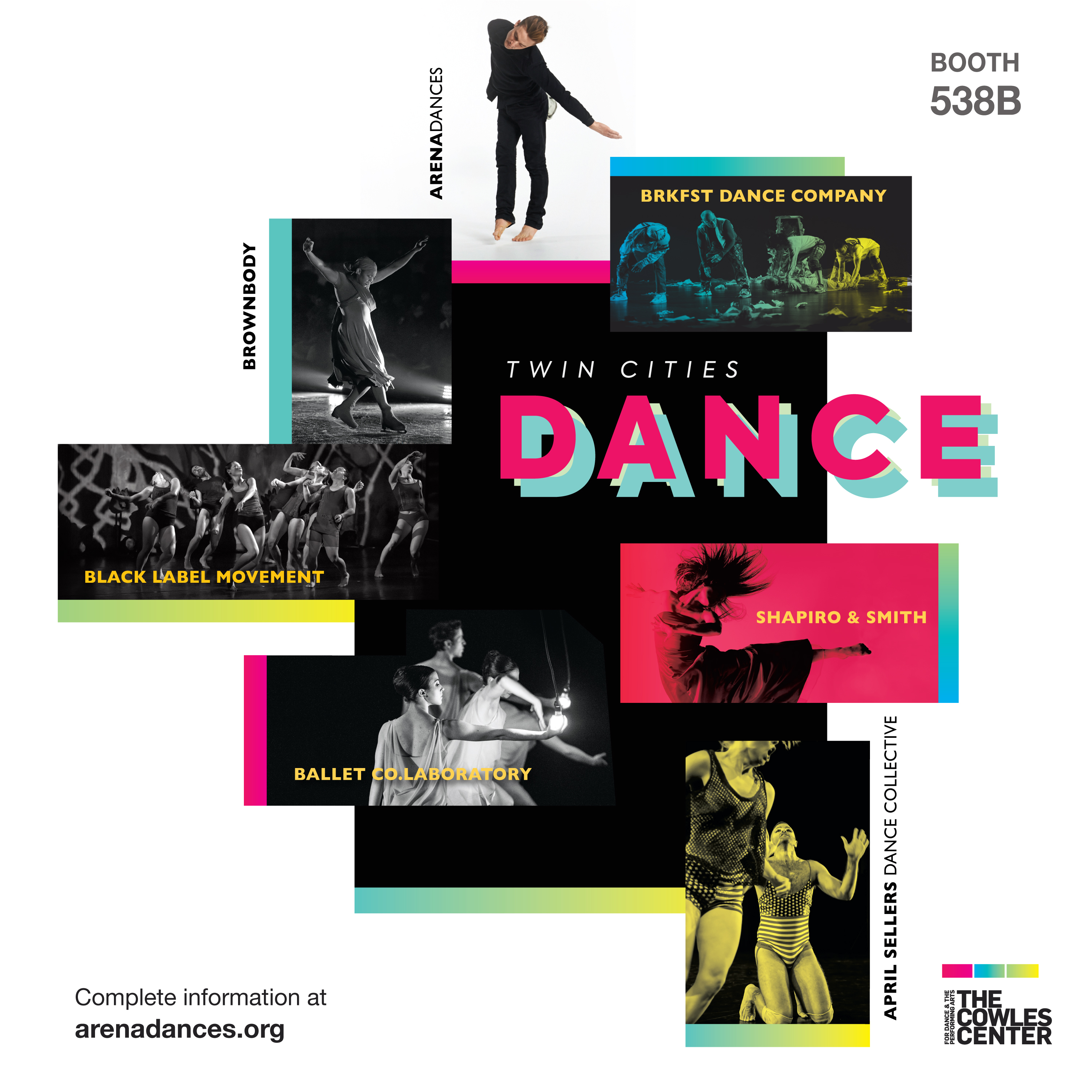 Seven Twin Cities original dance companies come together to present iconic works for 2 NITES ONLY at the TEK BOX September 5th and 6th
The showcase will feature:
ARENA DANCES
April Sellers Dance Collective
Ballet Co.Laboratory
Black Label Movement
BRKFST Dance Company
Brownbody
Shapiro & Smith
Highlighting the richly diverse, high caliber dance scene flourishing in the community. Ranging in aesthetics and approaches to choreography, each company will perform 15 minute excerpts of polished repertoire.
Black Label Movement (BLM) presents an excerpt from Morituri te Salutant, BLM artistic director Carl Flink's most recent work. The work exemplifies BLM's wildly physical, distinctly human approach to contemporary dance and includes dynamic, live animations by light animator Paul Herwig and an original soundscape by Greg Brosofske.  
From Shapiro & Smith, audience will be delighted by BOLERO, a work that brings to life images of heroism and defeat. Athletic, risk-taking, dramatic; it celebrates teamwork, the fighting spirit, and the power of people working together against the odds. Performed to Maurice Ravel's "Boléro," this epic showstopper consistently brings audiences to their feet.  
BRKFST Dance Company brings to the stage their work paper/trails, a production based on the ramifications of paper. How does paper (or the written words upon it) define us or confine our existence? In this heightened political arena, in which documentation of our citizenry means higher stakes for our livelihoods, it seems there is no way to be American without kept receipts, bills, and correspondence. Can we exist or have an easeful life without the proof of identification? Alternatively, the art, design, and creative nature that paper facilitates, aid in the enrichment of our lives. 

Brownbody roots its work in the histories, stories, and cultural memory of U.S. based Black communities. Integrating modern dance, theater, social justice practice, and figure skating, Brownbody cultivates deeper levels of awareness of the skewed power dynamics that have and continue to impact the lives, hearts, and minds of so many U.S. based Black communities. Being presented this evening are excerpts of past on ice artistic work, including a solo—The Most Perfect Human Specimen based on the exploitation and objectification of Saartjie Baartman, an ensemble work –Quiet As It's Kept—that draws parallels between the reconstruction period and current racial inequities, and Tracing Sacred Steps an excerpt of a work rooted in Ring Shout.
Patriot Erectors, a new performance work by the April Sellers Dance Collective examines the root of our disconnection to national identity. It is inspired by the fourth of July, the star-spangled banner, and the rainbow flag. At a time when our country is most divided and our leadership is invested in separating people based on identity, we seek to ask the question: Can you be queer and be a patriot and what does it mean to be a queer American? Deconstructing acts of nationalism from marching in the streets to the singing of the National Anthem, Patriot Erectors explores both celebration and protest.   

Mathew Janczewski of ARENA DANCES brings his subtle, rich and viscerally honest choreographic voice to the TEK BOX stage through Nils Frahm's experimental and contemplative music. Sharing a trio excerpt from the full evening, all female sextet that surges with the central theme of equality, One Room joins in the national conversation of gender equality. The dancers' movement is a meditation on the need to join together in one room, coming to the table to face conflict, negotiation, compromise, and strength as one voice.
Ballet Co.Laboratory shares Gentle Human, a vulnerable exploration of human emotion as a reaction to adverse outside forces. Inspired by true events in the lives of the company dancers and the wise words of Nikita Gill's poetry in her book Wild Embers, Gentle Human is a portrait of young artists finding meaning against the odds.
Remember what you must do
when they undervalue you,
when they think your softness is your weakness,
when they treat your kindness
like it is their advantage
You awaken
every dragon,
every wolf,
every monster that sleeps inside you
and you remind them
what hell looks like
when it wears the skin
of a gentle human
Nikita Gill, Wild Embers
Twin Cites Dance
September 5 + 6
TEK BOX of The Cowles Center
$10 pre-sale / $15 at the door
For tickets, visit City Pages
Same work, different layout each night – choose your viewing experience:
*Ticket is good for 1 entire evening, come as go as you please*

Thursday, September 5th
7:30-8:30PM (Shapiro & Smith, Brownbody, Black Label Movement, Ballet Co.Laboratory)
8:35-9:20PM (ARENA DANCES, April Sellers Dance Collective, BRKFST Dance Company)
9:25-10:25PM (Shapiro & Smith, Brownbody, Black Label Movement, Ballet Co.Laboratory)
Friday, September 6th
7:30-8:15PM (ARENA DANCES, April Sellers Dance Collective, BRKFST Dance Company)
8:20-9:20PM (Shapiro & Smith, Brownbody, Black Label Movement, Ballet Co.Laboratory)
9:25-10:10PM (ARENA DANCES, April Sellers Dance Collective, BRKFST Dance Company)