April Sellers is a choreographer, dancer and performance curator who for 18 years has created over 60 original works. She is the Founder and Artistic Director of the April Sellers Dance Collective which is renowned for its complex expressions of gender and identity in highly crafted performances. Her most recent and transgressive performance, Animal Corridor prompted the award "Artist of the Year" by City Pages in 2017. Other awards include the Minnesota State Arts Board Artist Initiative Grants (2018, 2015, 2002), MRAC Next Step Grant (2016), the McKnight Fellowship for Choreography (2011) and the Sage Award for Outstanding Performance in (2006). Over the past decade, Sellers has been invited to participate in a number of residencies like the Djerassi Resident Artists Program (Santa Cruz, California) and the Maggie Allessee National Center for Choreography (Tallahassee, Florida). Sellers holds an MFA in Dance from the University of Wisconsin, Milwaukee.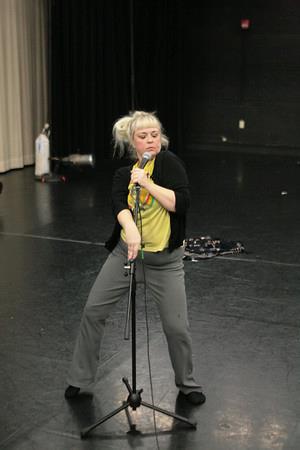 Catch April at the Festival:
MASTERCLASS –
Friday, May 3rd. 9:30-11:30AM
PRE-SHOW DISCUSSION –
Thursday, May 2nd. 6:30-7:30PM
PERFORMANCES:
Thursday, May 2nd. 7:30PM
Friday, May 3rd. 7:30PM
Saturday, May 4th. 2PM AND 7:30PM
Performing Work:
Patriot Erectors
Created by The April Sellers Dance Collective
Performers: Joshua Lorris Dale, Kathleen Pender, Tim Rehborg
Emeritus Artists: Mike Bahn, Kara Motta, Kimberly Rhyme
Music: Paul Revere written by Adam Horovitz, Joseph Simmons, Darryl McDaniels, and Rick Rubin. Seventy-Six Trombones written by Meredith Willson; rewritten and performed by ASDC. Losing My Religion written by Bill Berry, Michael Stipe, Mike Mills, and Peter Buck. Drums written, performed, recorded, and mixed by Greg Schutte at Bathtub Shrine Recording, Minneapolis. Patience written by Slash, Izzy Stradlin, Duff McKagan, Steven Adler, and W. Axl Rose. Music research and operation by James Landro.
Scenic Design: Samantha Johns
Supported generously by Fidelity Charitable / James K Spriggs Foundation, Dancing Queerly, In the Streets Productions, Candy Box Dance Festival, ARENA DANCES, The Boston Foundation and over 170 community donations. Patriot Erectors was workshopped while in residency at The Center for Performing Arts in Minneapolis, MN.  Commissioned by the Dancing Queerly Festival, Patriot Erectors premiered at the Dance Complex in Boston.
Special Thanks: The performers for their in-depth contribution. Jay Landro for everything needed in any moment—you are our MVP. Mathew Janczewski and ARENA DANCES for providing us with this amazing opportunity to deepen our process. Aaron Scott, Peter Stiteler, and Rashanda Bruce, for fighting for my integrity and giving me back my life in dance. Jackie Hayes and Jennie Ward for encouraging process over product. James K Spriggs and Kathleen, Peter DiMuro, Linda Shapiro, Bill and Connie Cameron, Florence Brammer, Scott Pakudaitis, Krista Romanish, Taja Will, Scotty Reynolds, Alvaro Bonilla, Judith Howard, Laurie Van Wieren, Sam Johns, Colleen Callahan, JP Productions, Tonya Lockyer, Gina Gibney, Frank Thorpe, Warren and Susan Lisser, Greg Schutte, Matt Peiken, Lela Mann, J Michael Winward, Maggie Cee, and John Munger. 
Dancer – Joshua Lorris Dale is a creator, performer, and teacher. Joshua trained as a Laban Bartenieff Movement Analyst with IMS, and is a certified teacher of Open Source Forms, an expanded practice of Skinner Releasing Technique. Joshua thanks his teachers for their support and mentorship over the years: Amanda Hamp, Ruth Zaporah, Stephanie Skura, Barbara Dilley, Wendell Beavers, Lee Worley, Erika Berland, Ethie Friend, Erik Ehn, Leigh Fondakowski, Jane Hawley, Leeny Sack, and Cadence Whittier.
Dancer – Kathleen Pender is a Minneapolis-based performer, dance educator, and arts administrator with a B.A. in Dance from St. Olaf College. She is Company Manager for Stuart Pimsler Dance & Theater, teaches with Young Dance and the Northfield Arts Guild, and has performed for local choreographers Taja Will and Erinn Liebhard, among others. Kathleen is excited to perform with April Sellers Dance Collective and is grateful to her fellow performers and April for this rigorous and engaging process.
Dancer – Tim Rehborg is a performer and dancemaker from Minneapolis. Tim presents a queer moving body to explore and dismantle the white heteropatriarchy. An improviser at heart, his movement vocabulary draws from yoga, contact improvisation, modern dance technique, and authentic movement. Tim has studied with Taja Will, Rosy Simas, Sandrine Harris, Timmy Wagner, Ishmael Houston-Jones, Miguel Gutierrez, and George Stamos. He has shown his work and collaborations locally at Patrick's Cabaret, Bryant Lake Bowl, the Walker Art Center, as well as at Danspace in New York and Foro Performatica in Cholula, Mexico.